Senate Rating Changes from Sabato's Crystal Ball
By 270toWin Staff
February 20, 2020
A new update from Sabato's Crystal Ball indicates the prospects have dimmed a bit for the two most endangered Senate incumbents in 2020. The rating in Alabama has moved from Leans to Likely Republican, while in Colorado, the race has moved from Tossup to Leans Democratic.
In Alabama, Democratic Sen. Doug Jones is likely to face a more formidable GOP opponent than Roy Moore, who he defeated in a 2017 special election. In addition, the vote will take place alongside the presidential election, which is likely to increase turnout heavily in support of Donald Trump. The state's primary is March 3.
In Colorado, the analysis notes that Republican "Gardner has long appeared endangered by the Centennial State's shift toward the Democrats. He has emphasized some local issues but has generally stuck with the president on the bigger-picture ones that are increasingly more salient in our nationalized elections. Gardner is in a tough spot: After distancing himself from Trump in 2016, Gardner risks losing his own base voters if he criticizes Trump, but if Trump again loses the state, voters may not have much reason to split their tickets in Gardner's favor."
Should these two seats flip, it leaves the Senate unchanged at 53-47 GOP. That means Democrats would need to find 3 or 4 more seats to take control in 2021. According to Sabato, Arizona, North Carolina and Maine, in that order, seem to be the most fertile ground for the party at this point.
Click or tap the map for an interactive version.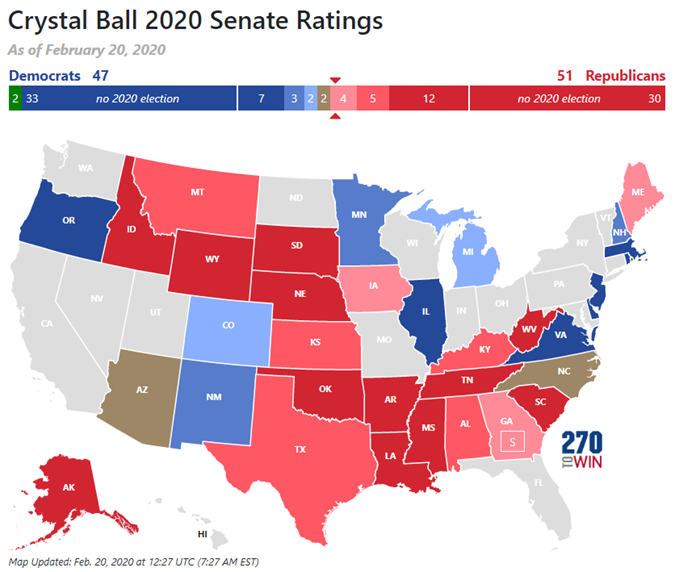 comments powered by

Disqus
Headlines