Mapping the Impeachment Vote
By 270toWin Staff
December 20, 2019
President Trump was impeached by the U.S. House on Wednesday on a nearly 100% party-line vote. The maps below reflect the district/party voting for and against impeachment. Click or tap to see a full list of Representatives voting yes or no and their election status for 2020.
Supported Impeachment
230 members - 229 Democrats and one independent - supported at least one article of impeachment. One Democrat, Rep. Jared Golden (ME-2) supported Article I and voted against Article II. Otherwise, the votes across the two were identical.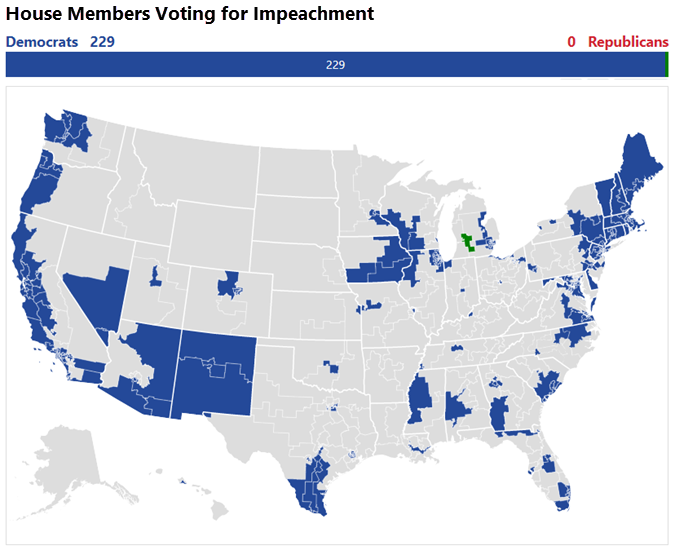 Against Impeachment
In the official roll call, 195 Republicans and two Democrats voted no on both articles of impeachment. However, Rep. Jeff Van Drew (NJ-2) has since left the Democratic Party to join the GOP; that shift is reflected on the map below. The only current Democrat to have voted no is Rep. Collin Peterson (MN-7), who represents a western Minnesota district that Trump won by 31 points in 2016.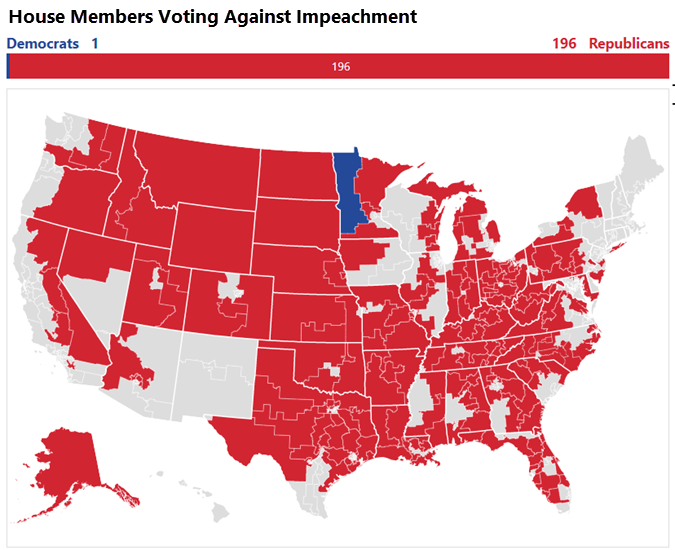 Other
Rep. Tulsi Gabbard (HI-2) voted 'Present'. Three members did not vote for different reasons: Reps. Duncan Hunter (R, CA-50), Jose Serrano (D, NY-15), and John Shimkus (R, IL-15). Additionally, there are four vacancies in the House.
comments powered by

Disqus
Headlines