National, Early State Polling Averages as of 4th Democratic Debate
By 270toWin Staff
October 15, 2019
Tuesday's debate, in Westerville, Ohio, will feature 12 candidates. It will be broadcast from 8:00 PM to 11:00 PM ET on several CNN networks as well as online at nytimes.com and cnn.com. No opening statements. Candidates will have 75 seconds to answer questions and 45 seconds for rebuttals.
Here's the stage, from left to right:

Polling Update
The table below shows select current 270toWin Polling Averages for each candidate in Tuesday's debate, as well as for the candidates that did not qualify. Included is the national average, as well as in each of the four early primary and caucus states.
Candidates in blue or red text will appear in Tuesday's debate; the eight in blue text have already met the qualifying criteria for the next debate, scheduled for November 20.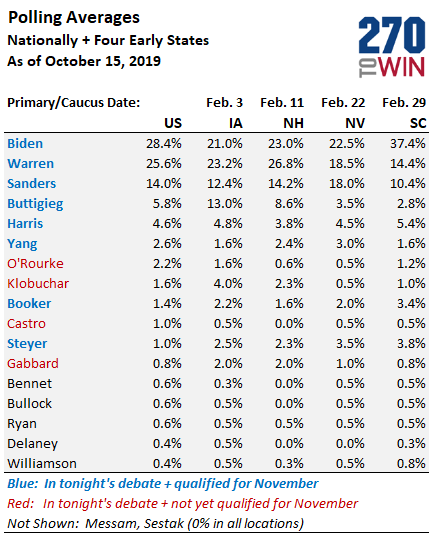 Visit our Democratic Primary page for calendar and polling information for all 50 states.
comments powered by

Disqus
Headlines