Election for Governor of Louisiana: Overview and Results
By 270toWin Staff
October 12, 2019
Looking for the November 16 runoff? Go here for an overview and live results.
==
The content below relates to the October 12 primary. Use the link above the == for the November 16 runoff.

Democrat John Bel Edwards is attempting to win a 2nd term as Governor of Louisiana as voters cast their ballots on Saturday. Polls close at 8:00 PM Central Time (9:00 PM Eastern). Follow along below as the results come in.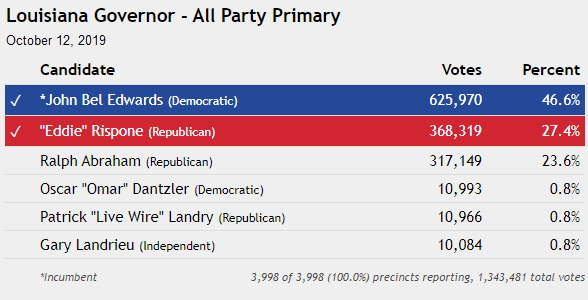 Aside from the presidential election, Louisiana doesn't hold traditional primaries for Federal and state offices. All candidates will appear on a single ballot in Saturday's election. If one candidate receives a majority of the vote, they are the winner. If not, the top two finishers, even if from the same party, move on to the general election on November 16.
What to Expect
We're watching two things. Will Edwards get a majority of the vote? If not, which Republican will place 2nd and take him on in November?
Recent polling shows the incumbent governor well ahead, but just short of the 50% threshold. Two Republicans, Ralph Abraham and Eddie Rispone, are set to split most of the rest of the vote, and are in a statistical tie for 2nd.
Other Gubernatorial Elections
In addition to Louisiana, Kentucky and Mississippi will hold gubernatorial contests this year, both on November 5. Those other states both have Republican incumbents. The election in Kentucky is seen as a toss up; unpopular Gov. Matt Bevin is seeking a 2nd term. In Mississippi, Gov. Phil Bryant is termed out. Both parties have strong nominees, but the deep red lean of the state means the GOP is favored to hold the seat. Next year, 11 more states will hold gubernatorial elections. Create and share your forecast with the Governor Interactive Map.
comments powered by

Disqus
Headlines