Louisiana Gubernatorial Election: Overview and Live Results
By 270toWin Staff
November 16, 2019
The runoff election for Louisiana governor takes place on Saturday, November 16. Incumbent Democratic Gov. Jon Bel Edwards is seeking a 2nd term. He faces off against Republican businessman Eddie Rispone. Polls close at 9:00 PM Eastern Time. Live results will appear below after that time.
This is a very competitive race. Edwards has a one point lead in the Real Clear Politics average. That is consistent with the toss-up rating assigned by most forecasters. Sabato's Crystal Ball does see a small edge for the incumbent, and moved the race to Leans Democratic the other day. You can read their analysis of the race here.
Saturday's election is a top-two runoff, necessitated when no candidate received a majority of the vote in the state's all-party primary on October 12. Edwards ended up at about 47%. Rispone and GOP Rep. Ralph Abraham split most of the remainder of the vote, with Rispone finishing slightly ahead.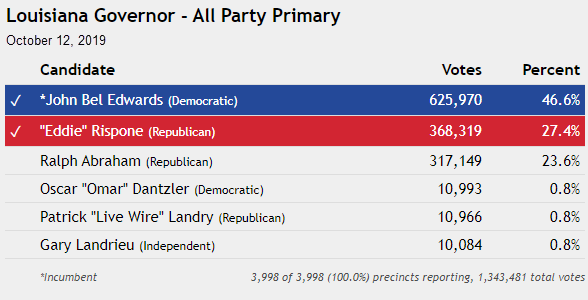 While the polling may ever so slightly favor Edwards, Saturday's vote could still go either way. In Rispone's favor is the fact that the two main Republicans combined for 51% of the total vote in the primary and, of course, Louisiana is a deep red state. President Trump also held a rally for Rispone in Bossier City earlier in the week.
This is the last of three gubernatorial elections in 2019, all competitive races in Republican strongholds. The parties have split the other two races, with the GOP prevailing in an open seat contest in neighboring Mississippi. Democrats flipped the seat in Kentucky, defeating the incumbent. There will be 11 gubernatorial elections in 2020.
comments powered by

Disqus
Headlines