Biden Gets Polling Bump After Entering 2020 Race
By 270toWin Staff
April 30, 2019
Former vice president Joe Biden's entry to the race has given him a notable - if perhaps temporary - boost in the polls, according to two national surveys of registered voters out this week. Already the frontrunner, Biden has opened up a double digit lead on Vermont Senator Bernie Sanders.
In a Morning Consult weekly survey released late Monday, Biden had a 36-22 lead over Sanders. Last week, Biden's lead was 6 points, 30-24. A portion of this survey predated Biden's official entry to the race. A CNN/SSRS poll out Tuesday, taken after Biden joined the field, gave Biden a 24 point lead, 39-15 over the Vermont Senator. In late March, Biden's lead was 8 points, 28-20*.
Overall, Biden's lead in the 270toWin average is now 10.4%. He and Sanders remain the only candidates in double-digits. The next tier, with over 5% support, includes South Bend Mayor Pete Buttigieg, Sens. Elizabeth Warren and Kamala Harris and former U.S. Rep. Beto O'Rourke.
The table below includes the polling average and debate qualification status for each declared candidate. The party will hold its first two debates in late June and July. Qualification is based on their standing in the polls and/or a minimum number of donors. Given the size of the field, these initial debates will each take place over two nights, with the candidates split randomly.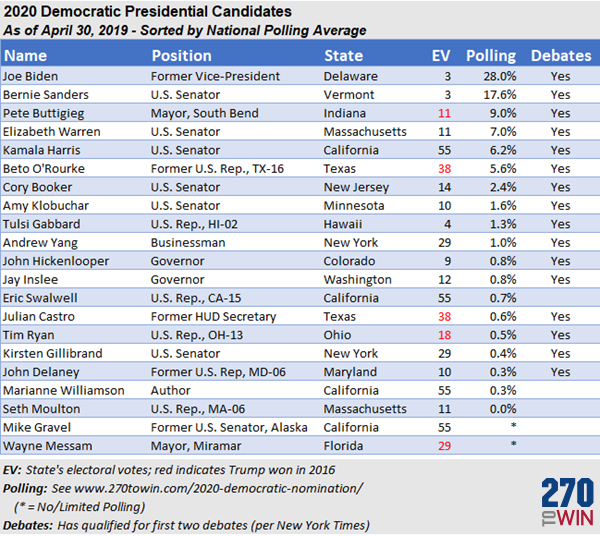 * The prior CNN/SSRS release document provided results based on all adults, not registered voters. In today's release, a comparison to registered voters from that poll was provided. The differences were not significant; Biden's lead compared to last month among registered voters was 28-19.
comments powered by

Disqus
Headlines