February 28, 2019
The team at Larry Sabato's Crystal Ball is out with their initial look at the 2020 presidential election. They see the race starting as a toss-up, although few states are individually characterized that way. Their analysis gives the GOP a 248-244 edge, although Democrats have the edge in states that are safely in their column. The map is below; click for an interactive version.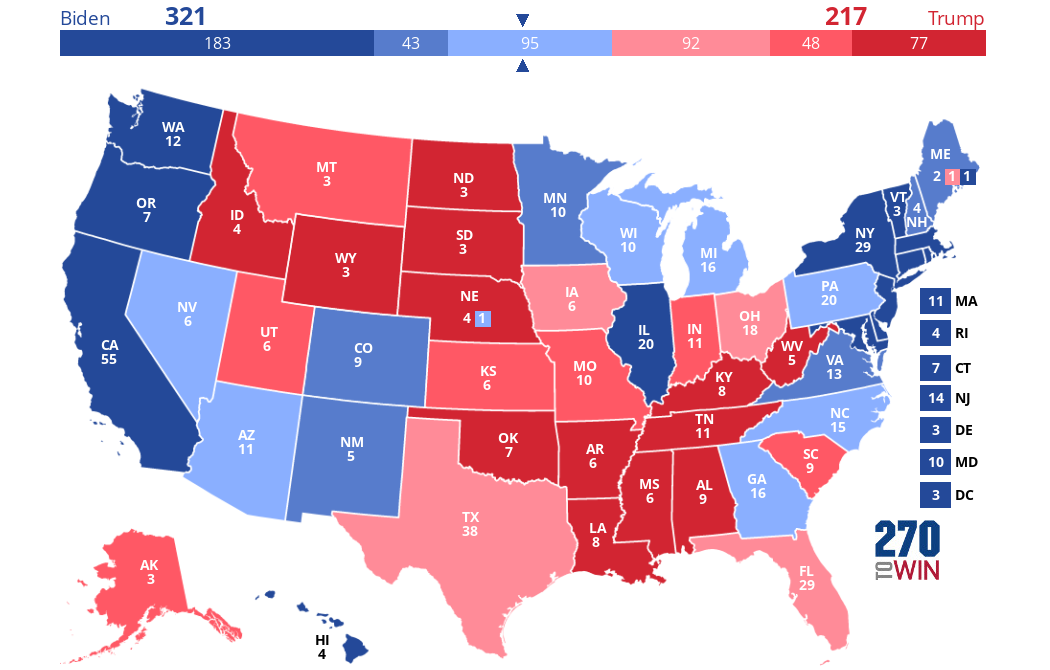 Notably, Florida starts with a leans Republican designation, while Michigan is seen as leans Democratic. Both these states were narrowly carried by President Trump in 2016. Florida statewide elections, while always close, have mostly broken for the GOP in recent years. This includes the Senate and gubernatorial races in the just-completed midterms. Of the blue wall states flipped by Trump in 2016, Michigan was the closest, with 2018 results and demographics making the eventual Democratic nominee a slight favorite next year.
Both these rating characterizations appear to have been close calls. Perhaps the most important takeaway at this early stage is the implication should the ratings shift in the opposite direction: "Just as we think Florida going blue would probably mean a Democratic presidential victory, so too do we believe that a Republican win in Michigan probably would mean that the GOP is retaining control of the White House. So if we move either to Toss-up, it may mean that a favorite is emerging in the presidential race overall."
The Road to 270
This feature can be found below the interactive electoral map. As you shift the forecast, the number of paths to 270 electoral votes will automatically update. Click 'View all Combinations' to see the specific combinations associated with the undecided states on your electoral map.
For the initial Sabato forecast, with only four states (and one Nebraska district) starting as toss-up, the number of pathways to 270 for each party is very small. Two tie scenarios remain possible. The image below is a composite from the details page associated with the map.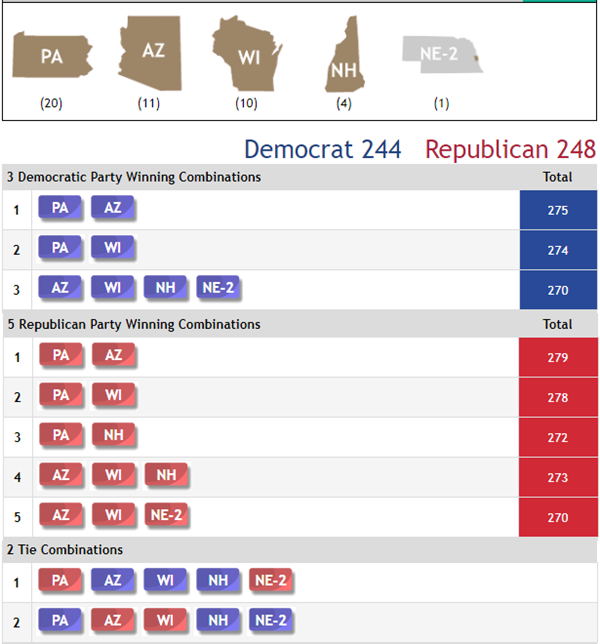 comments powered by

Disqus
Headlines