February 1, 2019
We've updated the Interactive Electoral College Tie Finder for the 2020 race. It shows all possible 269-269 ties for a given group of undecided locations (states and/or Maine/Nebraska districts).
11 states, as well as Nebraska's 2nd district were decided by less than a 5% popular vote margin in 2016. There are 64 possible ties based on that group of locations. An additional seven locations were decided by approximately 5-10% that year.
Use the tool to look at what ties are possible based on any combination* of these 19 locations. Over time, we'll update the locations in the tie finder as needed based on how the 2020 race evolves.
In this random example, there are five possible tie combinations: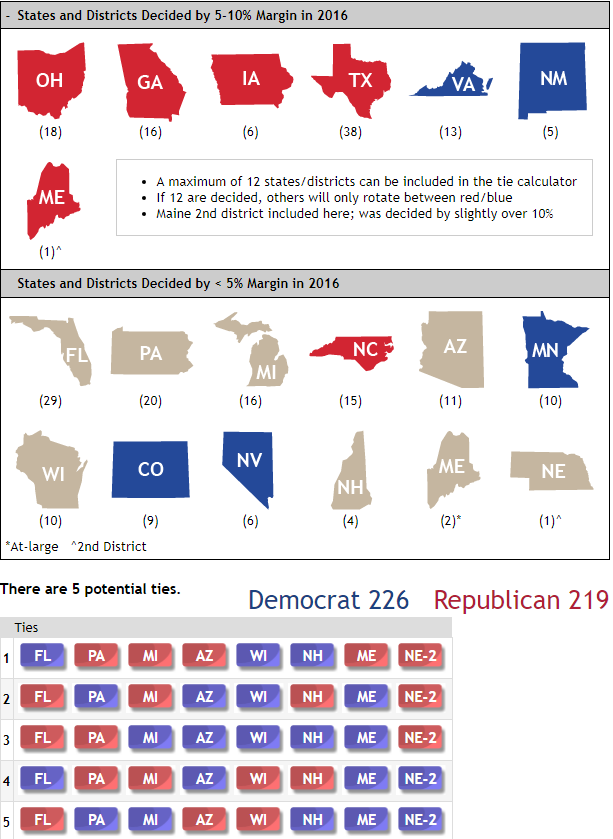 If no nominee reaches 270 electoral votes, the presidency is decided by the U.S. House of Representatives, with each state receiving a single vote, regardless of the size of its delegation. The GOP currently holds a 26-22 lead across the 50 states, with two ties. This would favor that party in a 269 tie scenario. However, that is not set in stone, as any tie in the 2020 presidential election would be broken in January, 2021, by the House members elected that November.
* Up to 12 locations can be included in the calculation
comments powered by

Disqus
Headlines