GOP Wins Mississippi Runoff, Will Control Senate by 53-47 Margin in 2019
By 270toWin Staff
November 28, 2018
Mississippi Republican Sen. Cindy Hyde-Smith won the state's special election runoff Tuesday. Appointed when former Sen. Thad Cochran resigned last spring, Hyde-Smith will now serve out the remainder of his term. The seat will be up again in 2020.
With this result, the 2018 Senate elections have come to a close. The GOP maintains control, with a net gain of two seats in the midterm elections. They will go into 2019 with a 53-47 edgea. Overall, six seats changed hands. Republicans won seats in Florida, Indiana, Missouri and North Dakota, while Democrats were able to take the seats in Arizona and Nevada.
Note that you may hear that Republicans gained one seat (not two) during this election cycle. This is accurate, with the difference attributable to the 2017 special election in Alabama that saw a Democratic gain.
Click the image below to see the results for all 35 elections. We also have an interactive version of the 2018 actual results.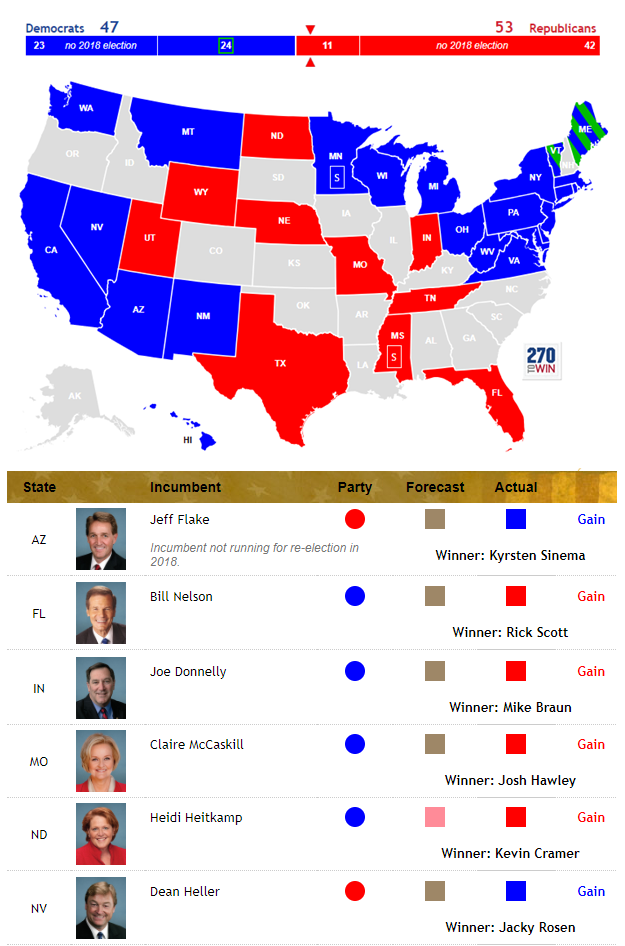 Looking Ahead
For those that have asked, look for the 2020 Senate interactive map during the first quarter of 2019.

All else equal, 2018 was a difficult year for Democrats, as the party had to defend 26 of the 35 seats that were contested (25-8 excluding special elections). Things will be somewhat reversed in the next two cycles, with Republican having to defend over 60% of the seats up in 2020 and again in 2022. As 2018 saw a two-seat gain for the GOP, the 2024 cycle will go from 25-8 Democrats to 23-10a.
Note that the GOP number of 22 in 2020 includes a special election in Arizona. The winner will complete the final two years of the seat previously held by Sen. John McCain, who died in 2018. That seat is currently excluded from the 2022 counts.
aIndependent Senators in Maine and Vermont caucus with the Democratic Party
comments powered by

Disqus
Headlines