August 3, 2018
A few highlights from Thursday's Tennessee primaries. For the vote totals for all congressional and gubernatorial primaries, go here.
Governor
Businessman Bill Lee emerged from a crowded field to win the Republican nomination. Rep. Diane Black finished 3rd, becoming the fifth House member to lose* in a bid for higher office. Lee will start out as the favorite against the Democratic nominee, former Nashville Mayor Karl Dean. The current governor, Republican Bill Haslam, is termed-out.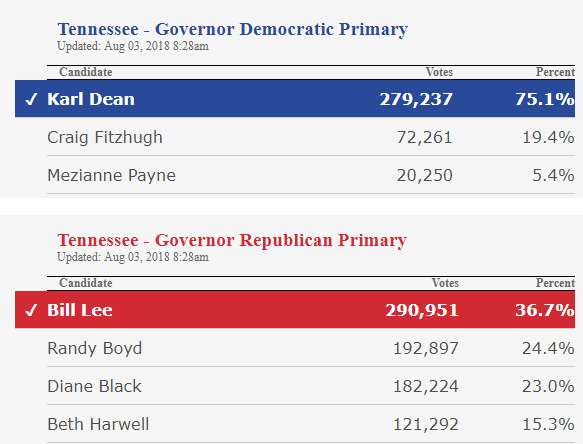 Senate
As expected, GOP Rep. Marsha Blackburn and Democratic former Gov. Phil Bredesen easily won their respective party's nomination. This is shaping up to be a highly competitive general election race. The current incumbent, Sen. Bob Corker, is retiring.
House
All five incumbents that faced a primary challenge were victorious. Knox County Mayor Tim Burchett and businessman John Rose won the open Republican nomination in the 2nd and 6th districts, respectively. State Senator Mark Green was unopposed for the GOP nomination in the open 7th district. These are very safe GOP districts - Donald Trump won each by over 35% in 2016 - and all three are likely headed to Congress in 2019.
* Idaho's Rep. Raul Labrador also lost a bid for governor, while Indiana's Todd Rokita and Luke Messer both lost in Indiana's U.S. Senate primary. In West Virginia, Evan Jenkins also lost his U.S. Senate primary. For more, see this List of 2018 House Retirements.
comments powered by

Disqus
Headlines