California Top-Two Primary a Good Predictor of General Election
By 270toWin Staff
June 5, 2018
California holds its non-partisan primary today. All candidates appear on a single ballot, with the top two vote-getters, regardless of party, moving on to the general election in November. We discussed some of the implications of that type of ballot in a short primary overview yesterday.
While this type of primary may yield some odd outcomes, such as a major party being shut out of a general election race, it also may prove to be a very good predictor of what to expect in November. Analyzing about 25 years of top-two results, the New York Times finds that "the California primary elections on Tuesday might give us a better idea of whether Democrats are headed for a so-called wave election — or whether their recent slide in the generic ballot and the bump in President Trump's approval rating mean they should worry."
The data shows that "Since 1990, the major party vote share in top-two congressional primaries in Washington (which also uses the top-two system) and California has differed from the general election result by an average of just three percentage points."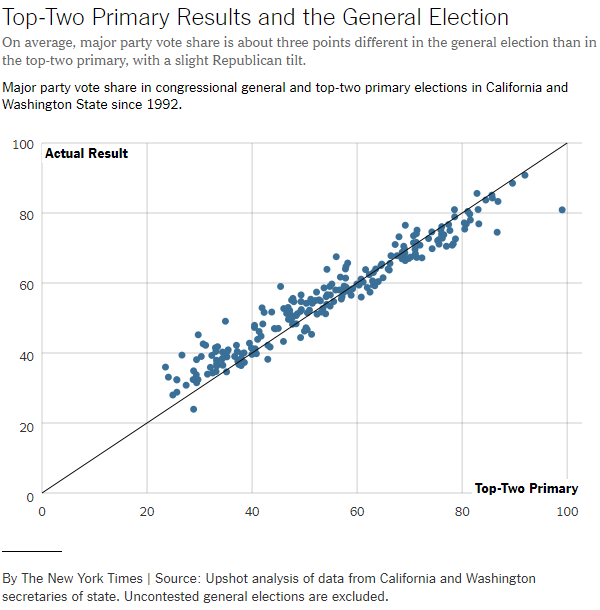 This data seems logical in that, other than the sheer number of candidates, a non-partisan primary ballot is essentially a general election race. Barring a major shift in the political environment between now and November, aggregating the Democratic and Republican vote today would seem to be as a good a predictor of the general election as anything available.
National Implications
There are 11 congressional districts in California expected to be at least somewhat competitive, according to Sabato's Crystal Ball. Nine of these are held by Republicans. Seven of those nine GOP-held districts were won by Hillary Clinton in the 2016 election. While the vote in California isn't predictive of the rest of the country, Democrats will almost certainly have to gain seats here to take back the House. Therefore, today's aggregate vote may go a long way toward showing how many of the state's 53 districts are truly in play this fall.
Click or tap the image for an interactive map with all the current House ratings from Sabato's Crystal Ball.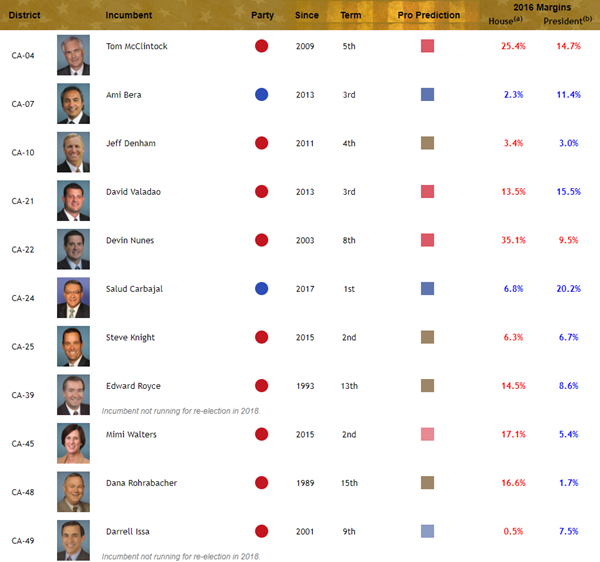 comments powered by

Disqus
Headlines