April 12, 2018
Democrat Conor Lamb has taken his seat in the U.S. House. Lamb won a special election in Pennsylvania's 18th district last month. He will complete the term of Republican Tim Murphy, who resigned last fall.
Lamb's win was an upset in this Republican-leaning district. With court-ordered redistricting, the 18th district will largely be absorbed into the new 14th district, which is even less hospitable to Democrats. As a result, Lamb is running for re-election in the new 17th district. He'll be up against Republican Keith Rothfus in a race that is currently seen as a toss-up.
There are now 237 Republicans and 193 Democrats in the House, with five vacancies. The next one of those to be filled will be in a special election in Arizona's 8th district on April 24th. The winner of that race will complete the term of Republican Trent Franks, who resigned in December. That race is rated likely GOP. A just-released poll of the 8th district gives Republican Debbie Lesko a 53% to 43% lead over Democrat Hiral Tipirneni.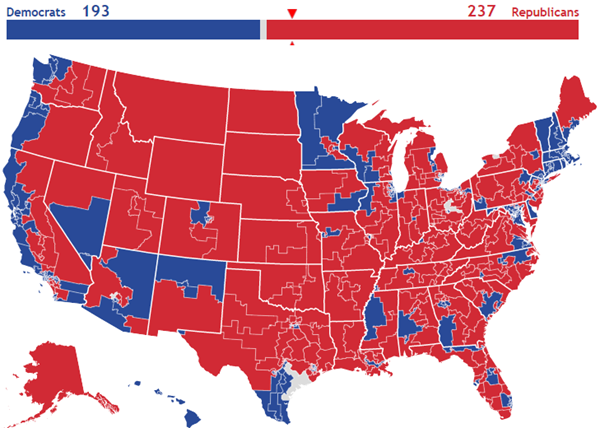 Click the map above for an interactive version of the 2018 House elections. Note that Pennsylvania displays the new district boundaries. To view current boundaries, use our elected officials lookup for Pennsylvania.
comments powered by

Disqus
Headlines