Federal Court Dismisses PA Redistricting Challenge; Primary Filing Deadline Tuesday
By 270toWin Staff
March 19, 2018
UPDATE: The U.S. Supreme Court has denied the Republican appeal to block implementation of the new map. This would seem to close the door on this issue -- the new district boundaries ordered by the Pennsylvania Supreme Court will be effective for the 2018 midterms.
===
A panel of federal judges dismissed a challenge to the redrawn Pennsylvania congressional map. The ruling comes one day before the March 20th deadline for candidates for the U.S. House to qualify for the state's May 15 primary. A separate appeal to the United States Supreme Court remains outstanding. This is the only remaining court that could halt the redistricting.
Although Republican Rick Saccone has yet to concede last week's 18th district special election to Democrat Conor Lamb, he is gathering the signatures needed to file in the new 14th district. This new district includes much of the prior 18th, but is even more GOP-friendly. Donald Trump won the old 18th by about 20 points, while those in the redrawn 14th voted for him by 29 points.
Lamb is expected to run in the new 17th district, which includes about 55% of the former 12th district, currently held by Republican Keith Rothfus. The district now includes more of Allegheny County and is thus expected to be quite competitive this November. Assuming Lamb is eventually seated, and if both make it through the primary, this will likely be the only district where two incumbents will face off in the general election. (Five of the state's incumbents have already announced they are not running for re-election).
The map below shows the current ratings for each of the new districts for November's election. The 14th is safely Republican, while the 17th is considered a toss-up. There are three other toss-up races near Philadelphia. Most of the remaining districts are safe Democrat or Republican, although there's a possibility the 8th and/or 10th district could become competitive. Ratings courtesy of Sabato's Crystal Ball.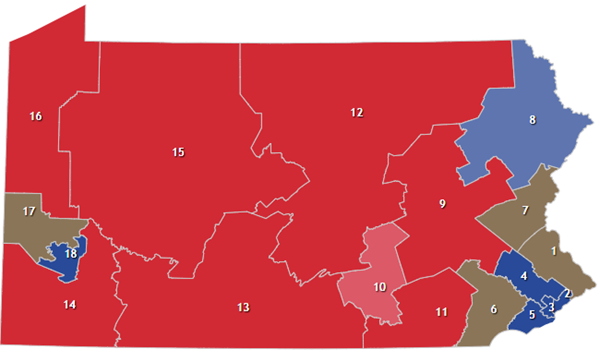 comments powered by

Disqus
Headlines