Minnesota Democratic Rep. Rick Nolan to Retire
By 270toWin Staff
February 9, 2018
Minnesota Democratic Rep. Rick Nolan announced he won't run for re-election in 2018. Nolan's 8th district, which covers the northeastern part of the state, including Duluth, was one of just 12 nationally that elected a Democrat to the House in 2016 while also voting for Donald Trump. Trump won by over 15%* here, while Nolan won re-election by less than 1%. While the race remains a toss-up, per Kyle Kondik at Sabato's Crystal Ball, it does represent one of the few attractive pickup opportunities for Republicans in this year's midterms.
Nolan is the 50th current member of the U.S. House to not stand for re-election. The list includes 34 Republicans and 16 Democrats. In addition to Nolan, Minnesota's Democratic 1st District Rep. Timothy Waltz is leaving; he is running for governor.
Five of Minnesota's eight districts are expected to be at least somewhat competitive in 2018. No states with more districts has this high a percentage of competitive races.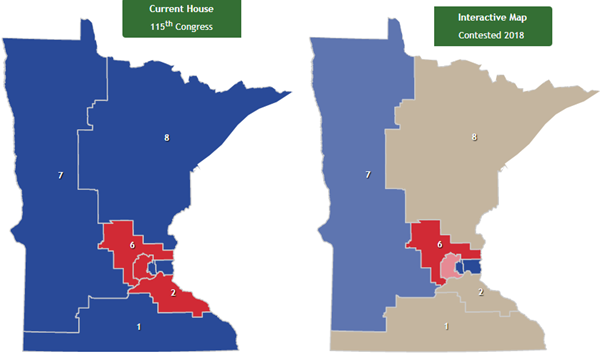 * Of the 12 districts, only the adjacent 7th district went more heavily for Trump that year. He won by 31% there. The long-time Democratic incumbent, Collin Peterson, won a 14th term by 5%.
comments powered by

Disqus
Headlines