New Poll Finds Tight 3-Way Battle in Arizona Republican Senate Race
By 270toWin Staff
January 10, 2018
A new poll from OH Predictive Insights shows a very competitive 3-way race for the Republican nomination in the Arizona U.S. Senate race. Rep. Martha McSally leads with 31%, just ahead of former Sheriff Joe Arpaio at 29%. Former State Sen. Kelli Ward is in 3rd at 25%. In a mid-November poll by the same firm, Ward held an 8 point lead over McSally; Arpaio was not included in that survey.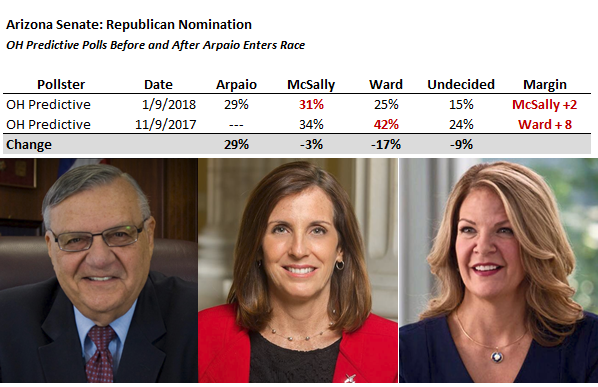 McSally is the establishment favorite, and her number is little changed from November. Arpaio's share came primarily from Ward; this makes sense in that they both will appeal to many of the same voters. It is also notable that Arpaio & Ward's combined share exceeds 50%, well ahead of McSally. This indicates that a three-way race all the way to the August 28th primary may make McSally's path to the nomination easier than if Arpaio or Ward drop out at some point and endorse the other.
Arpaio just announced his entry to the race yesterday, with McSally expected to officially join the race Friday.
comments powered by

Disqus
Headlines