Arpaio Enters Arizona Senate Race; McSally Expected to Announce Friday
By 270toWin Staff
January 9, 2018
The Republican field in the Arizona U.S. Senate race is expected to add two prominent names this week: Former Sheriff Joe Arpaio and Rep. Martha McSally. Both present a challenge to the current front-runner, former State Senator Kelli Ward. The incumbent Republican Senator, Jeff Flake, is retiring.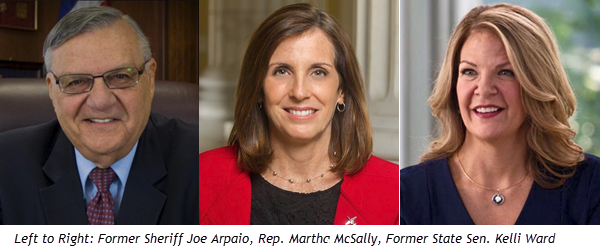 The Washington Examiner reports that "Arpaio, a close ally of President Trump and former sheriff known for his provocative approach to combating illegal immigration, is running for Senate in Arizona." Meanwhile, Politico's Kevin Robillard tweets that Arizona Republican Rep. Martha McSally has "special announcements" set for Friday. It is likely that she will enter the race at that time.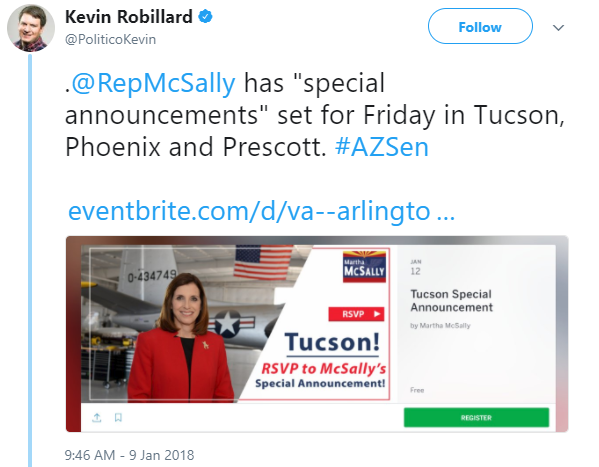 McSally has events scheduled beginning in Tucson then moving on to Phoenix and Prescott. Her 2nd district covers the Southeastern corner of Arizona, including much of Tucson. It was reported in early November that McSally was planning to join the race, so her expected announcement will not be a surprise.
The new entrants set up a three-way battle for the Republican nomination. McSally, in her 2nd term in Congress, is the preferred candidate of the establishment. The conservative Ward has received support from President Trump and an endorsement from Steve Bannon, although she's distanced herself from Bannon in recent days. Arpaio is likely to appeal to many of the voters drawn to Ward. This could actually ease McSally's path to the nomination.
Whomever emerges as the nominee will likely face Democratic Rep. Kyrsten Sinema in the general election. That contest is seen as a toss-up at this time.
McSally's district is also seen as a toss-up. While she won reelection by 14% last November, Hillary Clinton won the district by 5%. It is one of just 23 districts nationwide that elected a Republican to Congress and voted for Clinton over Trump.
comments powered by

Disqus
Headlines