House Updates: Michigan Special Election Set; Arizona's Franks Leaves Early
By 270toWin Staff
December 9, 2017
Michigan governor Rick Snyder has set November 6th, 2018 for a special election to fill the seat of Rep. John Conyers, who resigned earlier in the week. That date coincides with the midterm elections, meaning voters on that date will select a representative for the final two months of Conyer's term, as well as a representative for the two-year term beginning in January, 2019.
It also means that residents of the 13th district, which covers most of Detroit, will have no representation in Congress for nearly a year. The Republican governor's stated reasons for the delay are around cost, as well as giving both prospective candidates and voters ample time to prepare. We're sure it has nothing to do with this being a safe Democratic seat.
Meanwhile, in Arizona, Rep. Trent Franks resigned his seat Friday, a day after announcing his plan to resign on January 31, 2018. The accelerated timetable came after additional revelations around sexual harrassment became public. Gov. Doug Ducey is expected to set the date for a special election on Monday. This is a safe Republican seat. Update: The special election will be April 24, 2018.
The departures of Conyers and Franks means there are now three open seats in the House. A special election will be held on March 13th, 2018, to fill the vacancy in Pennsylvania's 18th district, formerly held by Republican Tim Murphy. That seat is rated as likely Republican.
With the departures, there are 239 Republicans, 193 Democrats in the House.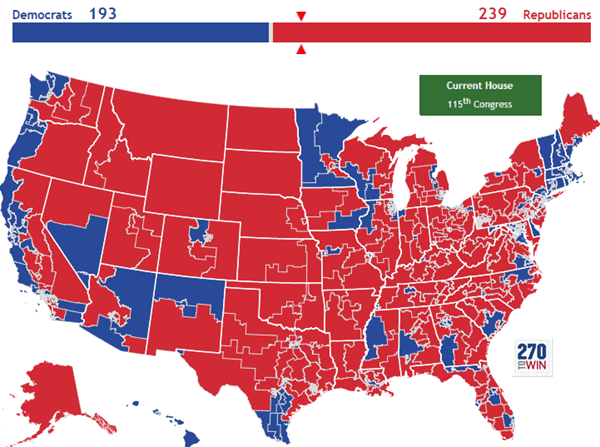 comments powered by

Disqus
Headlines