November 1, 2017
We've launched the 2018 Senate Race Ratings page, which summarizes how each race is viewed by three pundits. Those ratings form the basis for the 'Battle for Control' table, which shows where each party stands in its efforts to hold or regain majority status.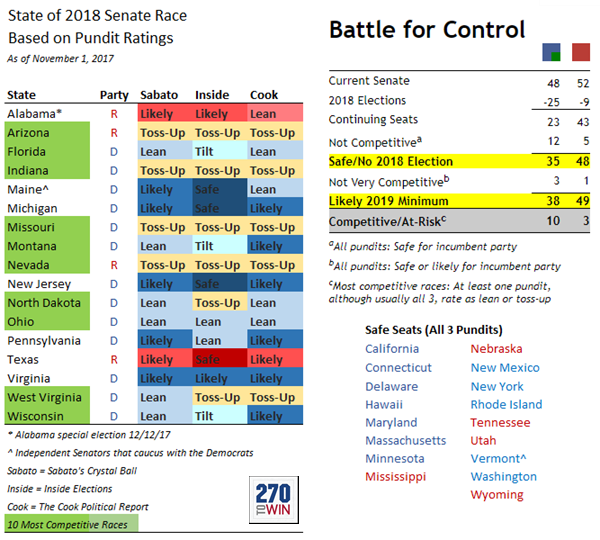 While the Senate is narrowly divided by party, the Battle for Control highlights the uphill battle Democrats have to take the majority in 2019. The party needs to reach 51, a net gain of 3 seats. However, Democrats currently hold 25 of the 34 Senate seats to be contested in 2018*. Once we back those out and add back in the seats the pundits all see as safe for the incumbent party, Republicans are at 48, just two shy of the 50 needed for control. After adding back in the seats that are unlikely to be competitive, Republicans have a 49 to 38 advantage.
Putting it all together - at this point - Democrats need to sweep all 13 competitive races to regain control. This includes next month's Alabama special election, which would be a pretty significant upset in that deep red state.
The pundit ratings come from Sabato's Crystal Ball, The Cook Political Report and Inside Elections (formerly the Rothenberg & Gonzales Political Report). Note that there is still considerable variation across pundits in some states (e.g., Maine). This is expected to lessen as the 2018 match-ups take shape, and there's a better handle on the overall political environment heading into these midterm elections.
Create and share your own forecast with the 2018 Senate Interactive Map.
* Includes Alabama special election to be held on December 12th, 2017
comments powered by

Disqus
Headlines