October 9, 2017
Carol Shea-Porter, a Democrat representing New Hampshire's very competitive first congressional district, announced she will not seek reelection in 2018. The move was unexpected. According to the Boston Globe:
"Her decision is a political bombshell with national implications. At a time when Democrats are looking to win back a majority in the House, Shea-Porter is one of [only 12] Democrats holding office in a district that Republican Donald Trump won last year."
This is one one of the most competitive House districts in New England, which can be seen by looking at the results here since 2006, when Shea-Porter first ran: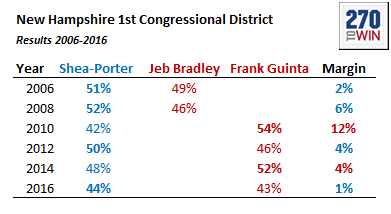 While Shea-Porter is now serving her 4th term in the House, the seat has rotated between parties since 2010. Shea-Porter has faced Republican Frank Guinta in all four of those elections. Guinta earlier announced he will not run again in 2018.
2016 was the closest of those four races. Shea-Porter defeated Guinta by one point, while Donald Trump won the District over Hillary Clinton by roughly the same amount.
There are now 28 House members retiring or seeking another office in 2018. This excludes Republican Tim Murphy (PA-18) who will now resign from Congress effective October 21st.
comments powered by

Disqus
Headlines