Updated Features in the 270toWin Electoral Map
By 270toWin Staff
June 6, 2017
While 2020 is a long way off, we've launched a few updates to the interactive electoral map.
Individual District Splits for Maine & Nebraska: Previously, only two districts could be split for Nebraska, one for Maine. This is one fewer than the actual number of districts in each state. (Why?) For the 2016 election, we expanded the available colors/ratings on the map. This created an issue in Maine, where District 1 favored Clinton, District 2 leaned for Trump, and the overall state was rated somewhere in the middle. The updated functionality allows for this kind of split.
3rd Party Electoral Votes: While it faded by Election Day, there was a relatively high level of support for an alternative to the two major party nominees. For a brief while, it looked like Evan McMullin had a chance to win his home state of Utah. To support this, the map now allows for a state to be given to a generic 3rd party candidate. We'll add more functionality in this area if the 2020 campaign produces one or more viable (can win electoral votes) 3rd party candidates.
Specific 2020 Match-ups: Click or tap the displayed name just above the electoral counter to create a map based on specific Democratic opponents for Donald Trump. The list of names will be adjusted over time.
(Coming Soon) Palette Mode:

Currently, the map is adjusted by rotating through the ratings/colors via click or tap on a state. The palette mode will allow the selection of a rating/color; each state subsequently clicked or tapped will turn to that rating/color. Both palette mode and the rotation mode will be available.
To choose the number of colors/ratings in your map, as well as whether to include the 3rd party in the rotation, select 'Map Options' which is alongside the share buttons below the map.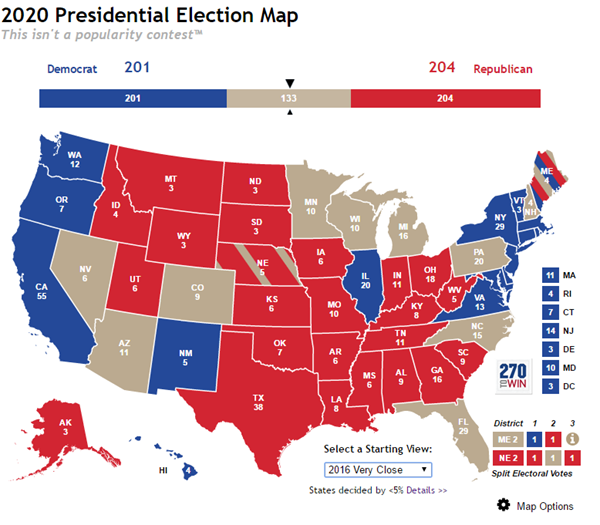 comments powered by

Disqus
Headlines