Ratings Update: More Republican-Held House Races Seen Competitive in 2018
By 270toWin Staff
May 11, 2017
Passage of the American Health Care Act (AHCA) and President Trump's unpopularity are combining to make many more Republican House seats look competitive in the 2018 midterm elections, according to a new analysis from Larry Sabato's Crystal Ball. They have moved the ratings of 18 seats in the direction of Democrats, including 13 that have moved into the lean/toss-up category.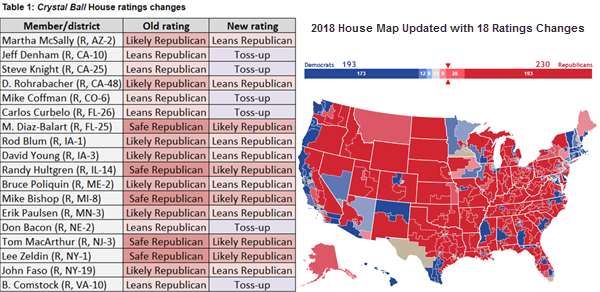 All but two of these Republicans voted for the AHCA. See how your/any Representative voted for AHCA alongside the competitiveness of their race here.
With six seats being moved to the toss-up category, Republicans remain favored in 230 House seats, 12 more than the 218 needed to hold control. The party currently holds 238 seats, with three previously Republican-held seats now vacant, to be filled in special elections by mid-year.
For more, see the 2018 House Interactive Map.
comments powered by

Disqus
Headlines