Health Care Passes House on Party Line Vote; Bill Repeals, Replaces Obamacare
By 270toWin Staff
May 4, 2017
From the New York Times: "The House on Thursday narrowly approved a bill to repeal and replace major parts of the Affordable Care Act, as Republicans recovered from their earlier failures and moved a step closer to delivering their promise to reshape American health care without mandated insurance coverage.
The vote, 217-213, on President Trump's 105th day in office, keeps alive the Republican dream to unwind the signature legislative achievement of former President Barack Obama. The House measure faces profound uncertainty in the Senate, where the legislation's steep spending cuts will almost certainly be moderated. Any legislation that can get through the Senate will again have to clear the House and its conservative majority."
The measure needed 216 votes to pass (not 218, as there are 4 vacant seats), and it achieved that via a straight party-line vote. Of the 193 'no' votes, 20 were from Republicans.
Curious how your (or any) Representative voted? Today, we introduce a new feature that shows the House Roll Call for a specific bill alongside the current 2018 ratings for each race. You can request the vote for your specific Rep (location services must be enabled), see the votes for competitive 2018 races and/or look at how the entire Member delegation of any state visited (by clicking or tapping that state on the map). Here is that map for the American Health Care Act of 2017.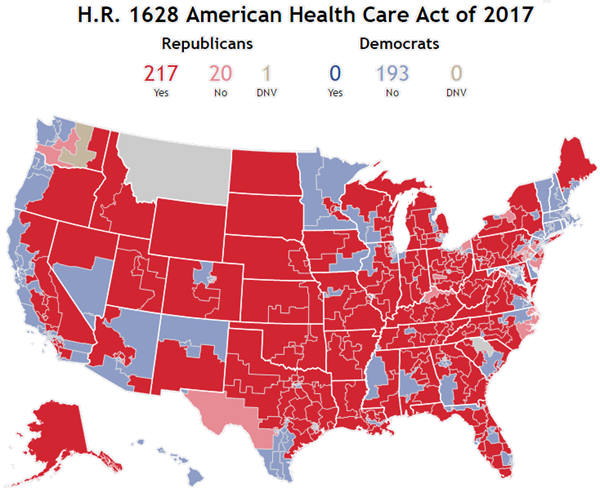 Related Content: 2018 House Interactive Map
comments powered by

Disqus
Headlines