Alabama U.S. Senate Special Election Moved to 2017
By 270toWin Staff
April 18, 2017
Alabama has moved up the date for its U.S. Senate special election to December 12, 2017, following a primary on August 15th, Politico reports. The special election was previously scheduled for November 6, 2018, to coincide with the midterm general elections. The winner of the special election will serve out the six-year term of this seat, next up for election in 2020.
The Senate seat became open when Jeff Sessions resigned after being confirmed as U.S. Attorney General in February. Then governor Robert Bentley, appointed Luther Strange to the seat. Bentley subsequently resigned on April 10th to avoid felony charges and likely impeachment. The Lt. Governor at the time, Kay Ivey, took over for Bentley that day. She pursued the date change after discussions with state officials.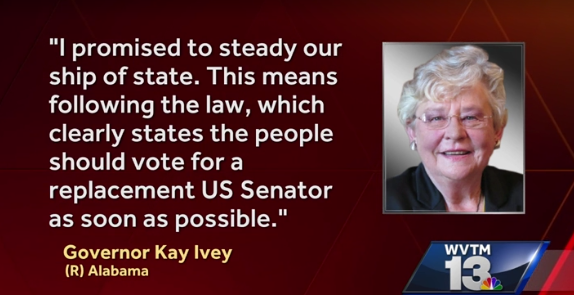 As reported back in January, Bentley set the special election for 2018 to - he said - avoid the significant cost of an off-cycle election. However, Strange, in his former capacity as the state's Attorney General, was in charge of investigating the governor. Some believed Strange's appointment to the Senate was a way to derail the investigation, and/or perhaps a 'thanks' for dragging it out for so long.
As a practical matter, these machinations will likely have little effect on Senate control. While Strange is likely to get some primary competition, the Senate seat in this deep red state is expected to remain in Republican hands regardless of who the party's nominee is.
comments powered by

Disqus
Headlines