Gubernatorial Elections Map Now Live; NJ, VA This Year, 36 More in 2018
By 270toWin Staff
March 15, 2017
The 2017-18 interactive map for gubernatorial races is now live. 38 of the 50 states will elect a chief executive during this period. The vast majority of those races, 36, will coincide with the 2018 midterm elections. New Jersey and Virginia have elections this November. Both incumbents are termed-out.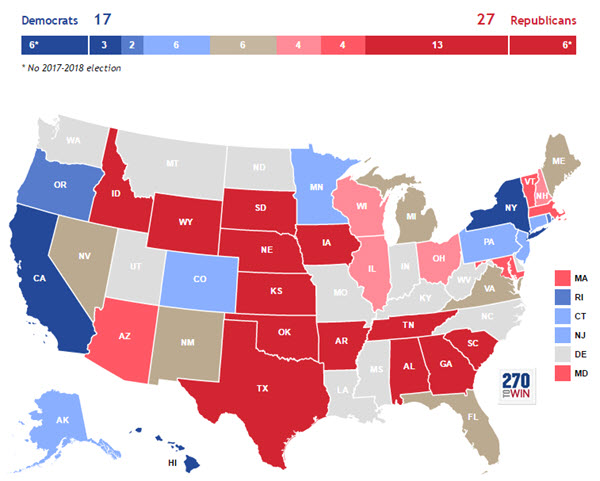 The gubernatorial races over this two-year period will take on outsized national importance as the 2020 Census looms, followed by congressional redistricting. In most states, that redistricting is controlled by the state legislature, but is subject to a veto by the governor.
Currently, there are 33 Republican governors (most since 1922), 16 Democrats, and one independent (Alaska). 27 Republicans, 10 Democrats, and that independent-controlled seat are up in this cycle. An early look by The Cook Political Report indicates roughly half the races may be competitive (rated toss-up or leaning). At this point, only New Jersey is leaning toward a party flip, as unpopular governor Chris Christie leaves office. Six other races are seen as true toss-ups. Five of those will be contested in 2018 and are all held by Republicans. Also a toss-up is the 2017 race in Virginia, as Democrat Terry McAuliffe departs.
comments powered by

Disqus
Headlines