February 25, 2017
Our 2018 House interactive map is live, populated with initial House ratings from The Cook Political Report. Those ratings show 205 safe seats for Republicans, 173 for Democrats. The remaining 57 seats are seen at varying levels of competitiveness. At this early date, these are the 57 seats most likely to determine the battle for 218 - the number needed for control.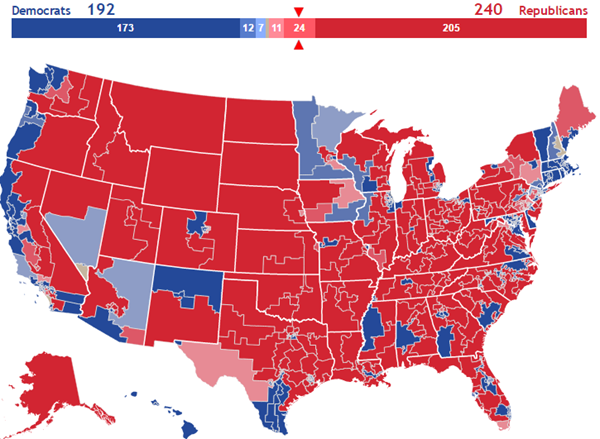 The GOP currently controls the House, with 238 seats to the Democrats 193. Four seats are vacant, three of which were previously held by Republicans now part of Donald Trump's administration. The one open Democratic seat, in California, became vacant when Xavier Becerra became California Attorney General. All four seats will be filled by special election in the months ahead. Only one, for Georgia's 6th congressional district, has some prospect of being competitive.
If we assume those four seats remain with the incumbent party, Republicans will have 241 seats, Democrats 194. This means Democrats will need to gain 24 in the 2018 election to gain control of the House. As can be seen in the above map, Cook is currently forecasting very little change. However, that is undoubtedly more a function of where we are in the election cycle than anything else. How things ultimately play out will likely be somewhat correlated with President Trump's popularity at the time.
Trump's approval rating is 41%, based on the latest Gallup Daily Poll. The table below shows the midterm change in House seats for each election since 1938. We've highlighted the seven occurrences where the president's approval rating was 45% or lower. In six of those, the president's party lost more than the 24 seats that the Democrats need to make up.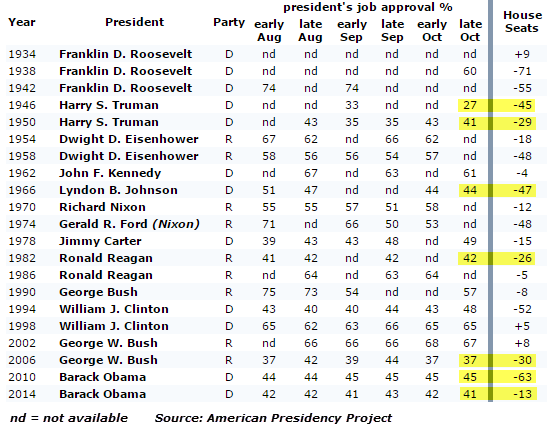 The one time fewer than 24 seats changed parties with an unpopular president was the most recent time, when Democrats only lost 13 seats in 2014. To the extent that reflects the relative lack of competitive congressional seats in 2010's America, an unpopular Donald Trump in 2018 might be best seen as a requirement for, but not a guarantee of, a change in House control.
comments powered by

Disqus
Headlines