July 11, 2016
Evan Bayh will replace Baron Hill as the Democratic nominee for the U.S. Senate in Indiana, instantly transforming a race that favored Republican nominee Todd Young into a toss-up. Hill withdrew from the race Monday morning.
Bayh previously served two terms in the U.S. Senate, opting not to run for reeleection in 2010. He was succeeded by Republican Dan Coats, who opted not to run in 2016. (Interestingly, Coats also preceded Bayh in the Senate). Todd Young, who currently represents Indiana's 9th District in the House of Representatives, won the Republican nomination and will face Bayh in November.
All 3 pundits that we follow on our Senate Race Ratings page reclassified the race to toss-up with this change. The PredictIt price for the Indiana Democratic Senate nominee more than doubled, from 24 cents to 57 cents as of Monday afternoon.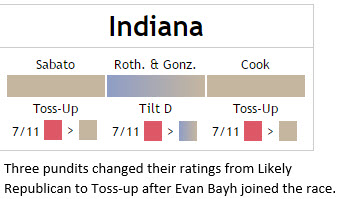 According to Sabato's Crystal Ball, 11 of this year's 34 Senate races are seen as competitive, defined here as toss-up or leaning to one party. All but one of these are currently held by Republicans. Democrats need to gain 4 or 5 seats to take control in 2017. Those ratings are reflected on the map below. Click it for an interactive version you can use to create and share your own 2016 Senate forecast.
comments powered by

Disqus
Headlines