Clinton Easily Wins Virgin Islands, Puerto Rico Votes Today
By 270toWin Staff
June 5, 2016
Hillary Clinton easily defeated Bernie Sanders in Saturday's Virgin Islands caucuses, winning at least six of the U.S. territory's seven delegates. This gives Clinton 2,322 delegates, just 61 from the required 2,383.
This article indicates Clinton won all seven delegates by virtue of Sanders only receiving 12% of the vote territory-wide, below the 15% required threshold. However, the island is divided into two 'districts, and Sanders exceeded 15% in one of them. It is possible that he may have won that 7th delegate.
For now, we are showing the totals excluding that final delegate: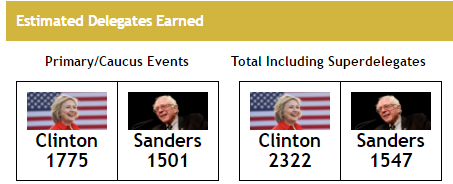 Today is the Puerto Rico primary, with 60 pledged delegates available. Polls are open from 8AM to 3PM Eastern Time.
comments powered by

Disqus
Headlines