Clinton Leads Trump in Late May Consensus Electoral Map
By 270toWin Staff
May 29, 2016
Hillary Clinton leads Donald Trump 253-191 in this early look at the consensus electoral map for the 2016 general election. This particular map combines the projections of five pundits as of late May. Click or tap the map to use it as a starting point for your own 2016 forecast.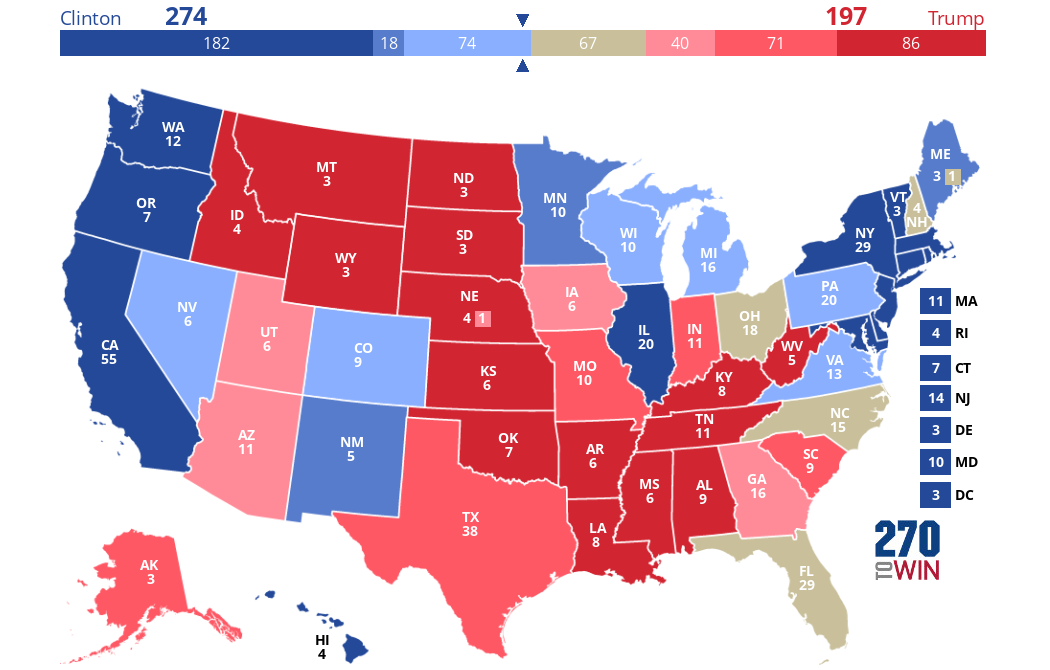 Only states rated safe by all five pros are shown in the deepest blue and red on the map. Five additional states were rated safe by four of five (MS, MT, NJ, NM, OR).
The general election campaign is just getting underway, so much could change, particularly given the dynamics of the 2016 race. However, if the map ended up this way, Florida and Ohio would be must-win among the toss-up states. In addition, this particular map has no tie possibilities. Use The Road to 270 below the map to investigate different paths to victory for each candidate. That feature updates with each change you make to the map.
The specific pundit maps used:
Sabato's Crystal Ball, Cook Political Report, Rothenberg-Gonzales Political Report, NBC Political Unit and The Fix (Washington Post).
comments powered by

Disqus
Headlines