Trump, Sanders Lead in West Virginia; State Looks Safely Republican in November
By 270toWin Staff
May 3, 2016
A new Public Policy Polling survey of West Virginia shows Donald Trump with a commanding lead in advance of next Tuesday's Republican primary there. For the Democrats, Bernie Sanders has a single digit lead over Hillary Clinton. This is the first poll of the state since February.
The West Virginia Republican primary awards 34 delegates in what Politico has called "a mind-boggingly compex delegate election process". That said, given Trump's 61% showing in this poll (22% for Cruz, 14% for Kasich) and the increasing likelihood that he's on a path to the nomination, it would be reasonable to expect he'll do well in the delegate count despite the system.
Sanders leads Clinton by 8 points in the Democratic West Virginia primary, 45 to 37. The state awards 29 pledged delegates which, as in other Democratic contests, will be allocated proportionately partially based on the statewide result, partially based on each congressional district.
Looking ahead to November, West Virginia's 5 electoral votes seem safe for the GOP. In the most likely match-up, Trump leads Clinton by 57% to 30%. The only scenario where the poll shows the election would be close is Ted Cruz vs. Bernie Sanders. This is not a surprise, when looking at the state's history. Starting with the Great Depression-era election of Franklin Roosevelt in 1932, West Virginia was a pretty reliable 'blue state' through 1996, when it voted with Bill Clinton for a 2nd time. Since then, however, the state has voted Republican, with increasing margins in each election. Mitt Romney defeated Barack Obama by abput 27 points in 2012.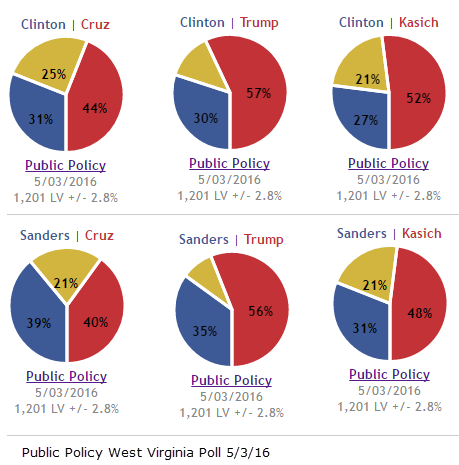 comments powered by

Disqus
Headlines