Sanders Wins Wyoming, Race Closer Than Expected; Delegates Split
By 270toWin Staff
April 9, 2016
Bernie Sanders has won the Wyoming Caucuses, media outlets are reporting. With 96% reporting, Sanders has 56% to Clinton's 44%. That translates into 7 delegates for Sanders, 6 for Clinton. One final delegate remains to be allocated.
While the win represents Sander's 7th of the last 8 Democratic contests, the result will likely be a bit disappointing for Sanders, as many of those recent wins, also in Western caucus states, saw votes for him in excess of 70%.
Clinton now leads in event delegates by 218, that lead is over 600 with committed superdelegates. She needs 32.5% of the remaining delegates to win the nomination.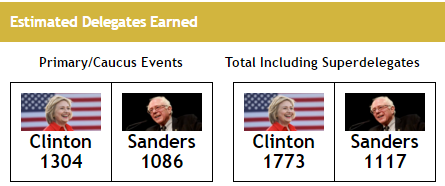 comments powered by

Disqus
Headlines