Cruz Wins 21 Delegates in Colorado
By 270toWin Staff
April 9, 2016
Texas Senator Ted Cruz picked up 21 Colorado delegates in recent days, three from each of the state's seven congressional districts. 17 of the 21 are bound to Cruz; the other four are technically unpledged but support his campaign.
The state will send 37 delegates to the Republican Convention. In addition to the 21 to Cruz, an additional 13 at-large delegates will be selected this weekend at the state GOP convention. Three additional delegates (RNC representatives) will be unbound, although they can pledge support to whomever they want. The Denver Post has a good graphical presentation: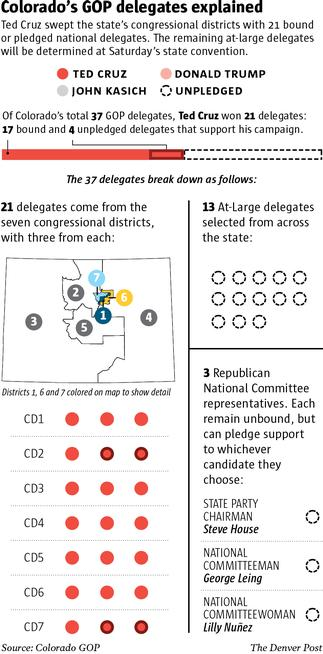 Updated Delegate Counts: With these 21 Colorado delegates, Cruz now trails Donald Trump by 211 in the race to 1,237. Trump needs about 57% of the delegates yet to be allocated to win the nomination outright.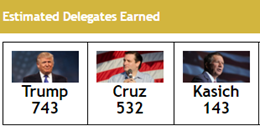 For those interested in projecting whether Trump or Cruz can reach 1,237, try our new interactive delegate calculator.
comments powered by

Disqus
Headlines