The Road to 1,237: Interactive Republican Delegate Calculator
By 270toWin Staff
April 5, 2016
Our new Interactive Republican Delegate Calculator lets you forecast whether Donald Trump or Ted Cruz can reach the necessary 1,237 delegates to secure the nomination prior to the Republican Convention this summer in Cleveland. John Kasich has been mathematically eliminated from reaching 1,237 during the primary season but his performances in upcoming events can certainly influence whether either of the others can.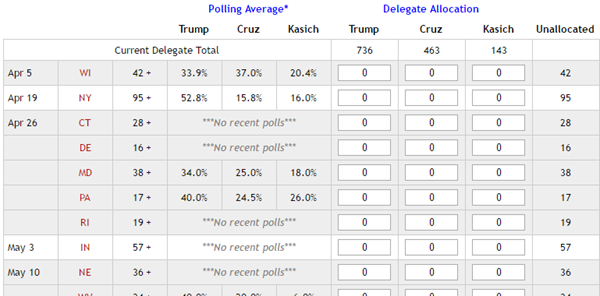 The calculator provides a row for each state whose primary has yet to occur. The row shows the number of delegates, polling average and the state's allocation methodology.
If cookies are enabled on your device, your predictions will be there when you return to the page.
comments powered by

Disqus
Headlines