What Happens To Rubio's Delegates?
By 270toWin Staff
March 17, 2016
Marco Rubio had won 169 delegates when he suspended his campaign earlier this week; other candidates had won 15*. The disposition of these delegates may end up being important if no candidate reaches the required 1,237 to win the Republican nomination.
As with most delegate-related issues, it turns out the answer varies by state. We found this very helpful infographic in today's Wall Street Journal that lays it out nicely. (The graphic is on page A4 of the paper; we haven't been able to find it online except in the WSJ ereader ).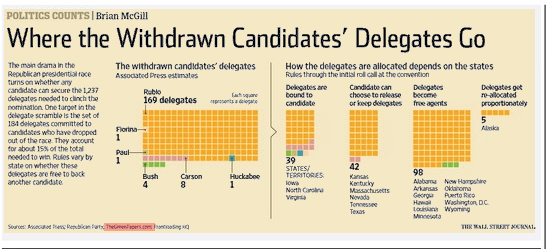 The graphic displays the four methods for what happens to these 184 delegates through the first round at the convention. Those are listed below, along with a couple notes.
Delegates are bound to the candidate (39 of the 184): Iowa is one of the states with this method; all but five of the non-Rubio delegates are in this category.

Candidate can keep or release delegates (42): Rubio controls 40 of these; Carson two. Carson has endorsed Donald Trump.

Delegates become free agents (98): If you're one of these people, you'll likely be hearing from the campaigns.

Delegates get re-allocated proportionately (5): Alaska only; depending on exact rounding rules, either Trump or Cruz will get three of these, with the other getting two. Kasich finished below the 13% threshold to qualify. Update: Trump was allocated 3, Cruz 2. Update 2: Rubio's request for the return of these five delegates was granted.
For more coverage of the campaign from The Wall Street Journal, visit their online politics section.
*Carson 8; Bush 4; Fiorina, Huckabee, Paul 1 each
comments powered by

Disqus
Headlines