Trump, Clinton Lead Michigan As Not-So-Super Tuesday Up Next
By 270toWin Staff
March 7, 2016
Donald Trump and Hillary Clinton hold fairly large leads in Michigan, the largest delegate prize on a relatively quiet Tuesday (although CNN would have you believe otherwise). Below the image, we summarize the day's events with updated polling info.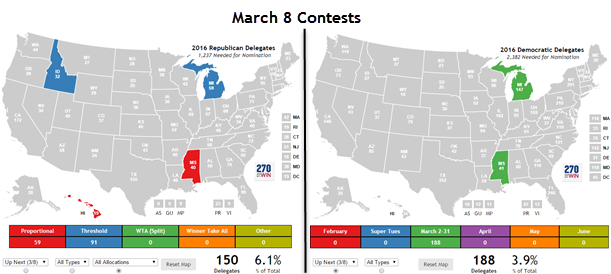 Michigan Primaries
On the Republican side, Trump is averaging about 38% in recent polls, with Ted Cruz and John Kasich fighting it out for 2nd at about 20% each. Marco Rubio is well back at 13%. It is worth noting that the polling for this race has been a bit volatile. For example, in the five polls we are currently averaging, John Kasich has placed in every position, from first to last. There are 59 delegates allocated proportionately (unless someone gets >50%) based on the statewide vote, with a 15% minimum to accrue delegates.
Hillary Clinton seems to have a comfortable lead, averaging about 20 points over Bernie Sanders. As with all Democratic primaries, most of the 147 delegates will be allocated proportionately, some statewide and some by individual Congressional District.
Other Republican contests:
Hawaii (Caucus, 19 delegates): Proportional caucus statewide/Congressional District. No polling available
Idaho (Primary, 32): A poll out yesterday, but conducted in late February, gives Trump 30%, with Cruz and Rubio just below 20%. The 20% figure is important, as Idaho allocates its delegates proportionately with a 20% minimum threshold; >50% winner take all. (The poll not yet in our database as we're trying to get some additional information on it).
Mississippi (Primary, 40): The only recent poll, from last week, givesTrump 41%, well ahead of Cruz & Rubio. This is a proportional primary, statewide/Congressional District with a 15% minimum threshold for the state vote. Congressional Districts become winner take all if a candidate exceeds 50%
Other Democratic contests:
Mississippi (Primary, 41): Two recent polls indicate an easy win for Hillary Clinton here; this would be pretty consistent with recent primaries in other Southeastern states.
comments powered by

Disqus
Headlines