Super Tuesday Republican Recap
By 270toWin Staff
March 2, 2016
Donald Trump strengthened his status as Republican frontrunner on Super Tuesday, winning 7 of the night's eleven contests. Trump swept the Southeastern states of Alabama, Arkansas, Georgia and Tennesssee, as well as New England (Massachusetts and Vermont) and Virginia. Ted Cruz won his home state of Texas, neighboring Oklahoma and Alaska. Marco Rubio got his first victory of the campaign, winning the Minnesota caucus.
Here's how the delegate count looks as of this morning, with the caveat that many of the night's delegates have still not been allocated. For example, Texas has 155 delegates, only 77 of them have awarded to this point. The remainder of the delegates (in all states) are likely pending final results in individual Congressional Districts.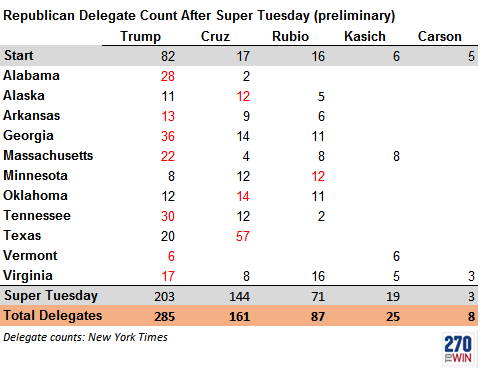 The info above is sourced from the New York Times. Trump now has 285 of the 1,237 delegates needed to nominate. The next Republican contests are this Saturday, with a primary in Louisiana and caucuses in Kansas, Kentucky and Maine. Prior to that, the remaining candidates will convene in Detroit for a 9PM ET debate on Fox. The moderators are Bret Baier, Megyn Kelly and Chris Wallace. Trump is expected to attend; recall he skipped the last Fox-moderated debate due to his ongoing feud with Kelly.
comments powered by

Disqus
Headlines