New Hampshire Results Summary: Winners, Vote and Delegates
By 270toWin Staff
February 10, 2016
Donald Trump and Bernie Sanders cruised to easy wins in Tuesday's New Hampshire primary. Both outperformed the polling which, overall, was pretty accurate.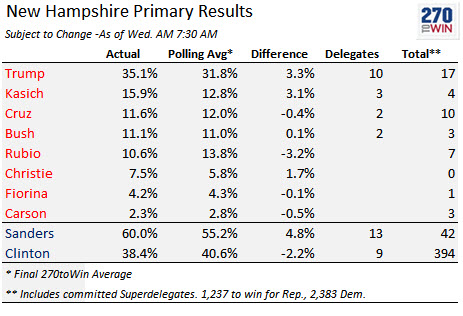 Both parties allocate delegates in a proportional manner. After two events, Donald Trump leads with 17 delegates; Ted Cruz has 10. 1,237 are needed to win the Republican nomination. Bernie Sanders earned 13 delegates to Hillary Clinton's 9 in New Hampshire. Clinton is well ahead in delegates, owing to her receiving the support of a large number of party superdelegates.
Up next are the Nevada Democratic caucus and South Carolina Republican primary, both on Saturday, February 20.
comments powered by

Disqus
Headlines