Iowa Caucus Results: Cruz Wins While Clinton, Sanders Draw; 2 Withdraw From Race
By 270toWin Staff
February 2, 2016
Republican: Ted Cruz won the Iowa caucuses, with about 28% of the vote. In a close three-way race, Donald Trump and Marco Rubio were next at 24% and 23%, respectively. Cruz and Rubio outperformed the polling average by several points, while Trump underperformed slightly.
Delegates are allocated proportionately in Iowa so delegates were pretty evenly split among the top three finishers. Cruz received 8, with Trump and Rubio getting 7 each. A few delegates remain unallocated at this point.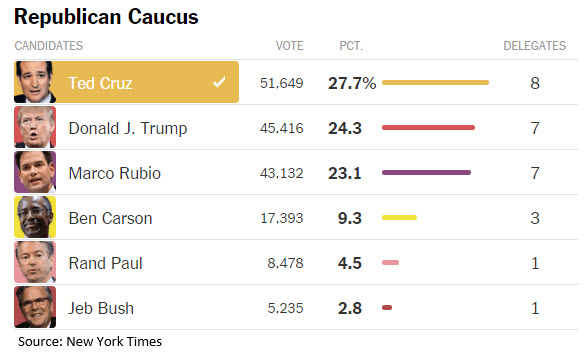 Mike Huckabee received about 2% of the vote, and suspended his campaign.
Democrats: Hillary Clinton and Bernie Sanders both received about half the vote in an exceptionally tight race. Clinton's campaign has claimed victory, but the race has not been called by the Associated Press as of this writing. Regardless of who ultimately wins, the delegate account is proportional here as well so it doesn't make much practical difference, beyond bragging rights. The exact delegate numbers are a little sketchy, but it looks like Sanders will have 21, with Clinton having between 23 and 29, depending on whether so-called 'super delegates' are included. Click or tap the above graphic to see the full Democratic results.
Martin O'Malley received less than 1% and also withdrew from the race.
Up next: New Hampshire primary on February 9. Trump has a huge lead in Republican polling, with Sanders also well ahead in the Democratic polls.
comments powered by

Disqus
Headlines