January 14, 2016
As the Republican candidate (except for Rand Paul) gather for tonight's Fox Business-hosted debates in Charleston, national polling continues to show Donald Trump well ahead of his nearest challengers. In an NBC News / WSJ poll out this afternoon, Trump had 33%, a 13 point lead over Ted Cruz. Marco Rubio and Ben Carson were also in double digits.

Trump has gained 6 points since the prior NBC News / WSJ poll last month, while Cruz, Rubio and Bush each lost 2 points. Ben Carson gained a point, a rare bit of good news in recent polling.
Seven candidates will take the stage in the main debate tonight at 9 PM Eastern. That's two less than last month's CNN debate. Carly Fiorina and Rand Paul didn't make the cut.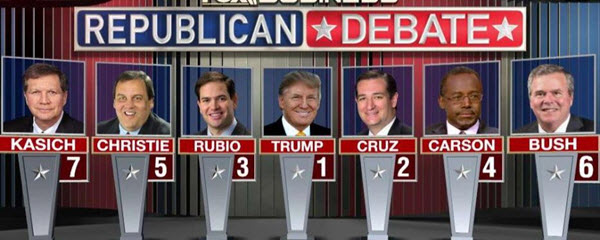 The undercard debate starts at 6PM. Carly Fiorina will be joined by Mike Huckabee and Rick Santorum.
comments powered by

Disqus
Headlines