Two Weeks Until Next Debate; Two Months to Iowa Caucuses
By 270toWin Staff
December 1, 2015
Two Weeks
Coming out of the Thanksgiving holiday, the next big event on the presidential calendar is the Republican debate on December 15th in Las Vegas. As we previously noted, it is likely that New Jersey governor Chris Christie will rejoin the main stage, based on qualifying criteria set by host CNN that considers polling performance in Iowa and New Hampshire. As an aside, Christie was endorsed this past weekend by the New Hampshire Union Leader in this editorial.
The Democrats will debate on December 19th from Manchester, New Hampshire.
Two Months
We're exactly two months out from the start of the 2016 election calendar. On February 1, 2016, the Republican and Democratic caucuses in Iowa will take place. On the Republican side, Donald Trump holds a small lead over Ben Carson in the 270toWin polling average, although the most recent polls have Ted Cruz overtaking Carson. Marco Rubio is also seeing double-digit support. Interest drops off quickly after that, with the two most recent Iowa winners (Rick Santorum and Mike Huckabee) not apparently making much of an impact.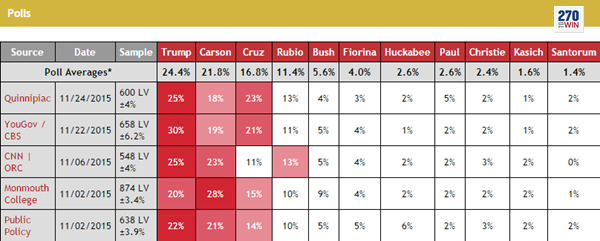 On the Democratic side, Hillary Clinton is averaging 53%, with Bernie Sanders at 37% and Martin O'Malley at 5%. It is worth noting, however, that two polls out just before Thanksgiving had Clinton ahead by less than 10%. It is also worth noting that the winner of the Iowa Democratic caucus has gone on to be the Democratic nominee for the last five cycles, including three competitive elections (i.e., no Democratic presidential incumbent). Those were Al Gore in 2000, John Kerry in 2004 and Barack Obama in 2008.

comments powered by

Disqus
Headlines