Trump Dominates Debate: 270toWin Snap Poll Results
By 270toWin Staff
November 11, 2015
Final Results
814 total votes were recorded. After eliminating obvious duplicates, 744 were used. The order of finish was the same as in our preliminary results this morning; there were some minor percentage changes.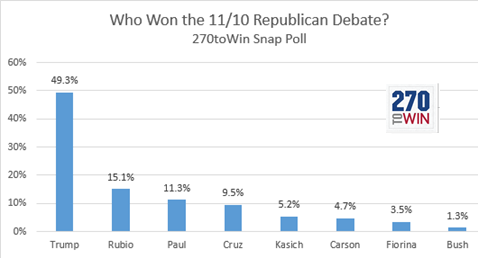 The next Republican debate is scheduled for December 15 in Las Vegas. It will be hosted by CNN.
==
Preliminary Results
More than 50% of those participating in our overnight snap poll thought Donald Trump won the Fox Business main stage debate last night. Marco Rubio was a distant second with 16%. Trump and Rubio were also 1-2 in the recent CNBC debate, although a much closer 39% to 22%. Rand Paul had a better night according to our respondents, coming in 3rd at 10%; he had a lackluster 3% in the prior debate.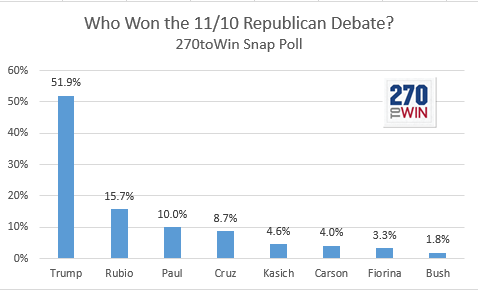 Only 4% thought Ben Carson, roughly tied with Trump in the national Republican polls, won the debate. Coming in dead last out of the eight participants was Jeb Bush.
Thanks to everyone that participated in our overnight snap poll. While we eliminated obvious duplicate votes from the results, we do want to note that this is just a response by those that chose to participate, and not a random sample.
comments powered by

Disqus
Headlines