Has Carson Peaked in Iowa? Trump Edges Him in CNN Poll
By 270toWin Staff
November 6, 2015
Donald Trump leads Ben Carson 25% to 23% in a new poll from CNN | ORC. While well within the margin of error, this is the 2nd poll this week that has seen Trump with a small lead. This sharply contrasts with several late October polls that had seen Carson pull ahead by almost 10%. Carson remains ahead in the 270toWin Iowa polling average as a result of those earlier margins, but this could be one situation where the average isn't telling the whole story. Time will tell.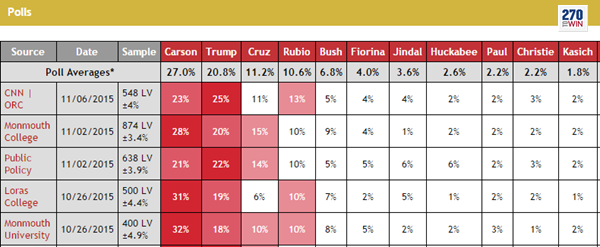 Ted Cruz and Marco Rubio continue to make up the 2nd tier in Iowa, and are essentially tied for 3rd. Taken together, the four candidates at the head of the Republican field are now receiving over 70% share.
On the Democratic side, CNN | ORC found Hillary Clinton leading Bernie Sanders 55% to 37%, slightly tighter than other recent Iowa Democratic polls.
The Iowa Caucuses are 87 days out on February 1, 2016.
comments powered by

Disqus
Headlines