Trump, Carson Lead Fox Poll; Final Roster for Next Debate Announced Tomorrow
By 270toWin Staff
November 4, 2015
In the latest poll from Fox News, Donald Trump leads Ben Carson by 3 points, 26% to 23%, with Marco Rubio and Ted Cruz tied for 3rd at 11%. These four continue to break away from the field. Trump and Carson are virtually tied at 25% in the 270toWin average of recent polls. Rubio and Cruz are still well back of the two frontrunners, but have seen their numbers slowly climb in recent polls.
Jeb Bush, John Kasich, Mike Huckabee and Rand Paul all received 4% in the Fox poll.
The next Republican debate, hosted by Fox Business Network and the Wall Street Journal, will take place next Tuesday, November 10th in Milwaukee. As with prior events, there will be a main event (8PM ET) and an earlier debate for those that don't make the cut. Fox Business has previously said that candidates must have a 2.5% average in the four most recent polls through today to make the main stage.
We don't know which polls Fox will use, but it looks like Rand Paul and Mike Huckabee's 4% will be enough to keep them in the main debate; Chris Christie may fall just short. The official lineup is expected to be announced tomorrow evening.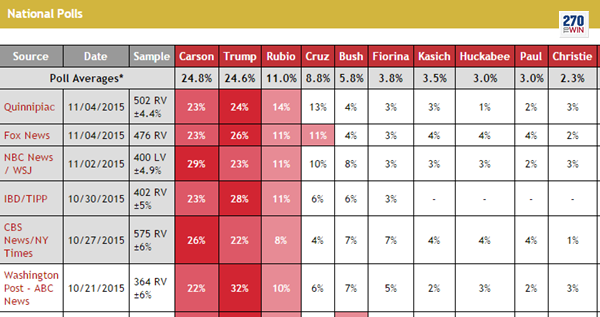 comments powered by

Disqus
Headlines