November 2, 2015
Tuesday will bring a quiet Election Day 2015 with two governorships being contested. A third gubernatorial race will be decided by runoff later in November. A number of large cities, including Houston, Philadelphia and San Francisco will have mayoral elections.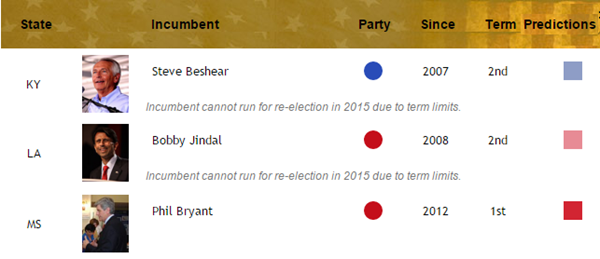 Three states have gubernatorial elections this year, with two of them taking place on Election Day. Mississippi governor Phil Bryant is expected to easily win reelection to a second term. A much more competitive race is on tap in Kentucky to replace term-limited Democrat Steve Beshear. Democratic Attorney General Jack Conway is up against Republican businessman Matt Bevin. Both Conway and Bevin have previously lost races for the U.S. Senate. Recent polling has shown a consistent but small lead for Conway, although one poll out over the weekend showed a tie. Independent Drew Curtis is also in the race. That's noteworthy for two reasons. First, while he's not expected to win, he is polling around 5%; some of those votes could find their way to one of the party candidates which could be significant in a very tight election. Second, Curtis is the founder of Fark.com, an irreverent stream of user-generated takes on the day's headlines which can be pretty amusing.
Louisiana will also elect a new governor this month to replace term-limited Bobby Jindal. The state held its 'jungle primary' on October 24th, where candidates from all parties competed. Since no candidate acheived 50%, the top two will compete in a runoff on November 21st. Sitting Republican U.S. Senator David Vitter will face off against Democratic state legislator John Bel Edwards. The race, which was once seen as safe Republican, has been trending closer, with Edwards leading Vitter in some polls. Most pundits still give a slight edge to Vitter. If Vitter does win, he will get to appoint his replacement in the Senate. Depending on when Vitter resigns his Senate seat, there may or may not be a special election for that seat in 2016. Regardless of which way that goes, the seat currently held by Vitter is one of 34 Senate seats to be contested in 2016.
comments powered by

Disqus
Headlines