First Democratic Debate Tuesday: What to Know
By 270toWin Staff
October 12, 2015
After three Republican debates (the fourth is scheduled for October 28), the Democrats vying for the 2016 presidential nomination will take the debate stage Tuesday night in Las Vegas Nevada. CNN and Facebook will host the event, which will be moderated by Anderson Cooper. CNN will telecast the debate, beginning at 8:30PM eastern time.
Five declared candidates have been invited, based on achieving at least 1% in three recognized polls. Candidates will be positioned based on position in the polls. Former Secretary of State Hillary Clinton will be at center, flanked by Vermont Senator Bernie Sanders and former Maryland governor Martin O'Malley. The final two spots will be occupied by former Rhode Island governor Lincoln Chafee and former Virginia Senator Jim Webb. Harvard University law professor Lawrence Lessig, the sixth declared candidate, did not meet the polling criteria to be included.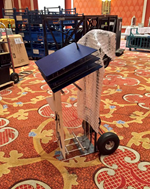 Vice president Joe Biden has qualified for the debate, but is not yet a declared candidate. A 6th podium is on-site should Biden decide to join the race and participate.
Looking at the Democratic polls, Clinton remains the strong frontrunner, although Sanders has provided a larger challenge than many expected when he entered the race. None of the remaining invited candidates has gained any traction of note with Democratic primary voters. The debate will provide the first real opportunity for these candidates to connect.
This is the first of six debates sanctioned by the Democratic National Committee, a limited schedule that has caused some controversy. The next two debates will be in the first two primary/caucus states. The first will be November 14 in Des Moines, followed by a December 19 event in Manchester, New Hampshire.
What the Candidates Need to Do
USA Today has a nice summary of what each candidate needs to accomplish for a successful evening.
Clinton: Reintroduce herself and her rationale for running/wanting to be president to reverse the torrent of negative publicity surrounding her in recent months
Sanders: Try to expand his appeal beyond core liberal base; appear electable
O'Malley: He's been more willing to go after Clinton than Sanders; needs to find an opportunity to do that on stage
Webb: Highlight his centrist views as contrast to others on stage; highlight opposition to Iraq War in contrast to Clinton
Chafee: Highlight his broad political experience
comments powered by

Disqus
Headlines