Post Debate Poll: Fiorina, Rubio Gain, Trump Down, Walker Disappears
By 270toWin Staff
September 20, 2015
A new CNN | ORC poll is our first look at the Republican field post-debate. This survey was conducted entirely after the September 16 event. In the table below, we compare this poll with the prior CNN | ORC survey, released September 10.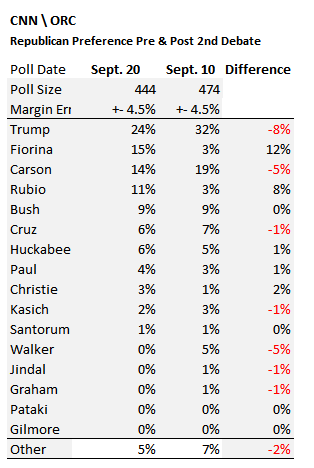 When comparing the two polls:
Fiorina and Rubio were the big winners. Both were at 3% prior to the debate, now in double digits. Fiorina's 12 point gain has put her in 2nd place.

Trump remains well ahead of the field, but saw a 25% reduction in support from 32% to 24%.

Carson lost 5 points and now is tightly bunched with Fiorina and Rubio. Along with Trump, all these candidates exceeded 10%, vs. only 2 at that level in the prior poll

Walker also lost 5 points -- his only 5 points -- and has fallen to the bottom of the pack. Before the political outsiders came along, he and Bush (who held steady at 9%) were seen as favorites for the nomination.

Speaking of those outsiders, The combined total of Trump, Fiorina and Carson, none of whom have held political office, was 53%, virtually unchanged (although redistributed) from the 54% total of 10 days ago.
comments powered by

Disqus
Headlines