2nd Republican Debate: Defining Success for Each Candidate
By 270toWin Staff
September 16, 2015
Tonight's second Republican debate will take place at the Reagan Library in California, televised at CNN beginning at 8PM ET. It is expected to last about 3 hours. 11 candidates will participate. Here's where they will stand: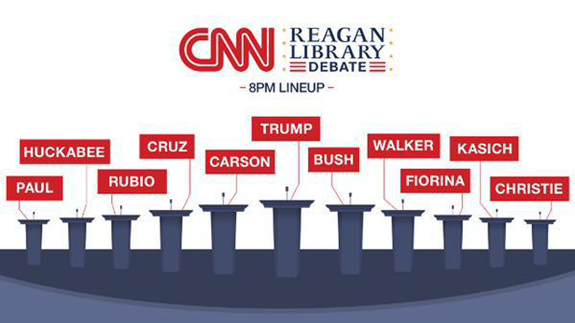 And, here's how they are doing in recent polls: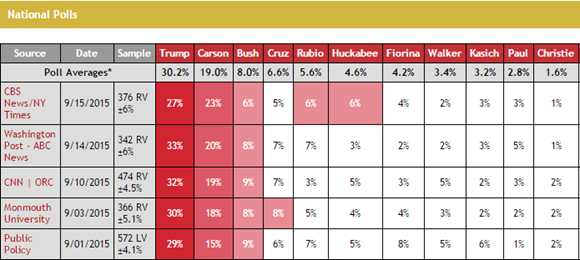 The Hill has put out a nice summary of what each candidate needs to do for a successful showing tonight. Some excerpts:
Donald Trump must conjure all of his skills as an entertainer to handle increased scrutiny while also laying out a vision that goes beyond a 'make America great' slogan
Ben Carson needs to build on the outsider wave that has gotten him to second in the polls. He needs to display command of policy.
Jeb Bush can't appear intimidated by Trump and needs to reverse the low-energy image that Trump has painted him with.
Carly Fiorina should stay above the fray as she introduces herself as the only woman on the main stage.
Politico has a top 5 things to watch article. Carson and Fiorina have something to prove, while Bush vs. Trump is expected to be the evening's main event. Scott Walker and Rand Paul need to use this debate to get back into the conversation as their recent poll numbers have lagged. Finally, the article discusses the endurance event this three hour debate will be.
comments powered by

Disqus
Headlines