Trump Passes 30% in CNN Poll; Inside One Week Until Next Debate
By 270toWin Staff
September 10, 2015
The latest Republican presidential poll from CNN | ORC shows Donald Trump at 32% and Dr. Ben Carson at 19%. These two candidates now have the support of over half the Republican electorate or more than the other 15 candidates combined. In the last CNN poll, from mid-August, Trump was at 24%, Carson at 9%.
In the 270toWin average of Republican polls, Trump, Carson and Jeb Bush are 1-2-3, with Trump enjoying roughly double the support of Carson who, in turn, almost has double the support of Bush.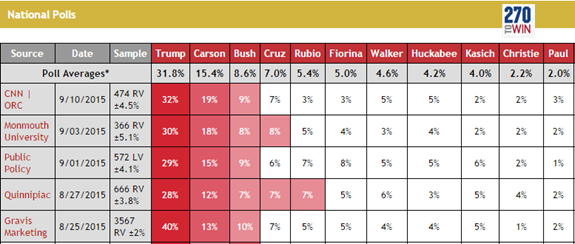 The upcoming Republican debate, hosted by CNN at the Reagan presidential library, will take place next Wednesday, September 16 at 8PM EDT. It will be preceded by a forum for lower-polling candidates, which will take place at 6PM.
CNN recently changed the debate criteria so that Carly Fiorina, who has polled well since the first debate, could participate. At this point, it appears that there will be 16 candidates participating between the two debates. The first debate will include all 10 from the first Fox debate plus Fiorina (names are those in the above image), with Rick Perry, Rick Santorum, Bobby Jindal, Lindsey Graham and George Pataki invited to the earlier event.
comments powered by

Disqus
Headlines