Bush Leads Clinton by 11 in Iowa; Results of NH and IA Polls
By 270toWin Staff
September 6, 2015
New NBC News/Marist polling from Iowa and New Hampshire is out this Labor Day weekend and the news is not good for Hillary Clinton.
Democratic Primary/Caucus: Clinton is under 40% in both Iowa and New Hampshire, a loss of about 10% in both states from the last NBC News/Marist survey in July. Clinton trails Bernie Sanders by 9% in New Hampshire, while her 11% lead in Iowa is down from 24% in July. In a separate survey without Joe Biden included, the margins were about the same, indicating Biden's supporters would split roughly 50/50 if they had to choose Clinton or Sanders.
Republican Primary/Caucus: Donald Trump leads in both states, coming in at just under 30% support. In Iowa, only Ben Carson comes close, at 22%; no other candidate exceeds 6%. In New Hampshire, John Kasich and Ben Carson trail trump, both in the low teens. It is interesting to also note regional differences in candidate support; see table below. That's a reminder that national polling should be viewed somewhat skeptically, as the nomination will be decided based on the results of state-level contests that take place over several months.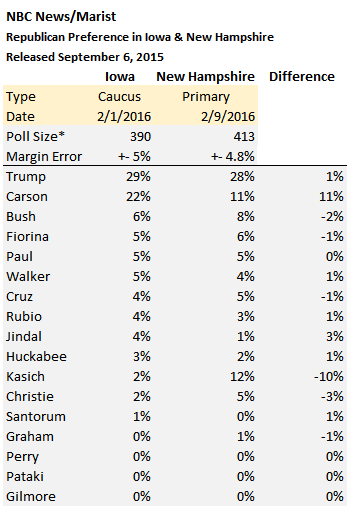 General Election: The poll surveyed Clinton or Biden vs. Bush or Trump. The most notable results were that Bush has opened up an 11 point lead over Clinton in Iowa and that Biden outperforms her vs. these prospective Republican challengers. Keep in mind that Biden is not in the race, and he's not being subject to the attacks and negative publicity that accompany a campaign. Visit our 2016 general election poll page to follow all the polls.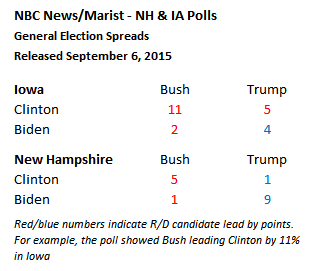 comments powered by

Disqus
Headlines