August 1, 2015
A new McClatchy-Marist Poll, out yesterday, is the first we've seen that sampled all 17 declared Republican candidates against likely Democratic nominee Hillary Clinton. The former Secretary of State is ahead in each case, with margins from 5% to 21%.
Whether or not the margins are accurate in the absolute sense, it seemed like they might give us some indication of the strength of Republican candidates to each other when presented to a general election audience. We could then compare that to what Republican primary voters have been saying about their candidates in recent polls.
In the table below, the first column shows the Republican against Clinton, with the next three columns showing the outcome and Clinton lead in the McClatchy-Marist poll. For example, she leads Scott Walker by 7%. The next column reflects the 270toWin average in the last five Republican primary national polls.
The Ranking columns order by relative standing, with the difference in the final column, shown in red if general election standing is worse than primary. The chart is sorted by Primary Ranking, with the green background representing the ten candidates that would make the cut for this Thursday's first Republican primary.
The most noticeable difference is with Donald Trump, who is well out in front in recent Republican polls. Mr. Trump is likely to have center stage this Thursday, yet has one of the poorest relative showings vs. Clinton in the general election poll. On the other hand, Rand Paul and Rick Perry are ranking much better with a general election audience than with Republican voters. The difference is striking in Mr. Perry's case, as he may be on the outside looking in at this Thursday's debate.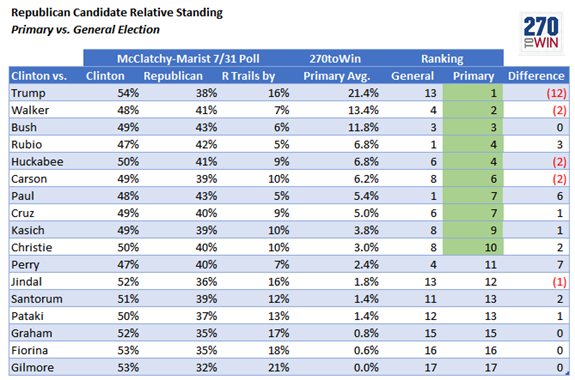 comments powered by

Disqus
Headlines