June 10, 2015
270toWin has launched interactive maps for 2016 Congressional elections in the House and Senate, as well as 2015-16 elections for governor. The maps let you create your own forecasts and compare them to those from the political analytsts at Larry Sabato's Crystal Ball.
As we get closer to 2016, we expect to bring in additional content, including more detailed information (candidates, polls) on each race that is forecast to be competitive.
Senate: Republicans currently control the Senate, with 54 of the 100 seats. 34 seats are up in 2016, of which 24 are held by Republicans. Democrats will need to gain four or five seats to take the majority. A four seat gain creates a 50-50 tie, with the tie-breaker going to the Vice-President. Since we don't know which party will win the 2016 presidential election, the map lets you make that projection to break the tie.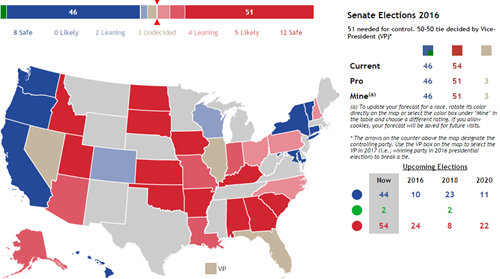 House: Republicans also control the House, with a 246-188 advantage. One vacancy, in Illinois' 18th District, will be filled on September 10. That seat is likely to remain in Republican control. The table below the House map initially displays all races expected to be competitive. Click or tap a state to see/modify all the Districts for that state.
Governor: Three states will choose a governor in 2015, with another 12 going to the polls in 2016. Republicans currently control 31 governorships to 18 for the Democrats. Alaska governor Bill Walker is an independent.
comments powered by

Disqus
Headlines